News & Events
Stay up to date on all of our recent news and events.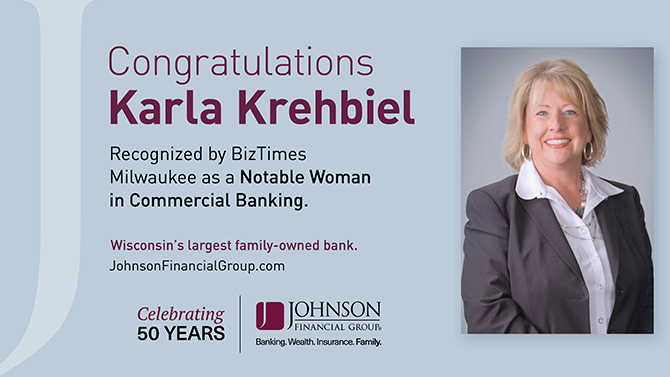 Featured News Story
Karla Krehbiel has more than 37 years of banking experience and has been with Johnson Financial Group for 13 years. She oversees 165 employees, including 10 in commercial banking.
"Karla has worked with thousands of business owners to strengthen the business climate and economy in these markets," said Thomas Moore, senior vice president commercial banking manager southeast for Johnson Financial Group. "Recent examples of Karla's work with our commercial clients include mentoring a local business owner as he transitioned to president and owner of the family business, assisting a client with their expansion into a new market, and guiding a multigenerational business through the sale of their company keeping both the client and communities best interest in mind throughout the process."
READ MORE

about Karla Krehbiel being among Milwaukee's Notable Woman in Commercial Banking.