Mobile Wallet
---
Conveniently make purchases using your mobile device and your Johnson Financial Group card.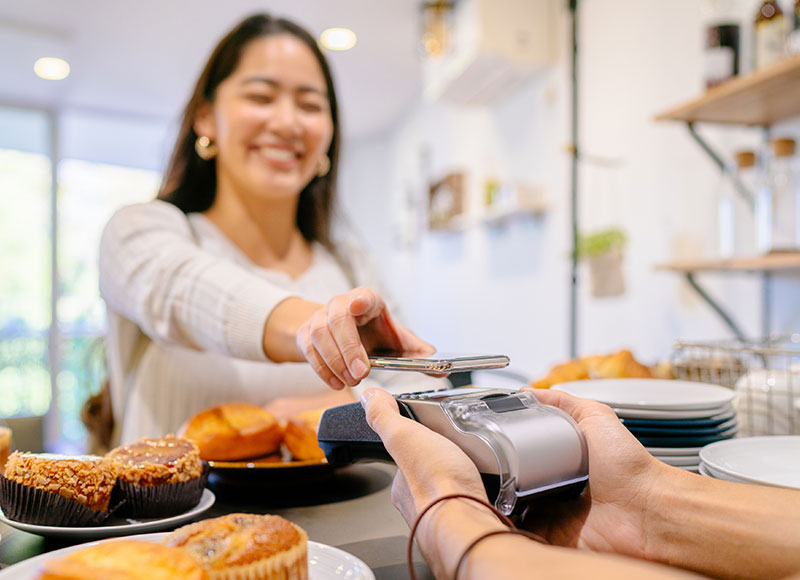 Benefits
Easily make secure in-store and in‐app purchases at participating merchants.
Apple, the Apple logo, and Apple Pay are trademarks of Apple Inc., registered in the U.S. and other countries. Android, Google Pay, and the Google Pay Logo are trademarks of Google LLC. © 2018 Samsung, Samsung Pay, Galaxy S (and other device names) are trademarks or registered trademarks of Samsung Electronics Co., Ltd. Other company and product names mentioned may be trademarks of their respective owners. Samsung Pay is available on select Samsung devices.
Frequently Asked Questions
Mobile payment technology can be used with these Johnson Financial Group cards: Johnson Financial Group Visa® Personal Debit, Business Debit, Health Savings Account and Line of Credit – Apple Pay™, Samsung Pay™, and Google Pay™ Johnson Financial Group Visa® Credit Cards – Apple Pay™, Samsung Pay™ and Google Pay™ Johnson Financial Group American Express® Credit Cards – Apple Pay™
Mobile payments can be made with any merchant who can accept contactless payments.
Yes. You can make mobile payments internationally as long as the merchant can handle contactless payments.
For in‐store contactless payments, you do not need to be connected to the internet.
Enrolling in Apple Pay is easy. If your card is already on file with Apple (iTunes) and is eligible for the service, you will be offered an option to use it as your default account for Apple Pay. You can add other cards and will be prompted for a one‐time entry of account details such as name, card number, expiration date, and the 3-digit card verification value that can be found on the back of your card. Johnson Bank and Apple will work behind the scenes to create a digital version of your account and enable you to start making payments with Apple Pay.
To add an eligible card on a compatible Samsung phone, open the Samsung Pay app and then tap ADD. When adding your card, you can choose to take a picture of your plastic card or manually enter your card information. For each card you add, you will need to enter your security code (the 4‐digit number on the front your card), billing address and accept the terms of use for Samsung Pay.
Most Android phones come with the application pre‐installed. If it is not, you can download it through Google Play Store. In the Google Pay app on your device, touch the + sign to add a credit or debit card to pay using your phone. Position your card in the camera frame to automatically enter your card information. Enter the security code found on your card and provide additional information as required. Accept the terms of service and set your screen lock. (Activating Device Administrator is part of the Google Pay setup process.) Follow any additional steps to verify your card.
For any new or replacement cards, you will need to go through the initial set up and provide the required details to add the card to your device and begin making mobile payments.
Any returns should be processed as they are done today. However, individual merchant return policies may vary.
Receipts should look the same as they always have. However, in some cases, receipts created from mobile payments may display the last four digits of your digital account, which may differ from the last four digits of your physical card.
Your Trusted Partner for Life's Biggest Moments
No matter what financial needs you may have, we're here for you. Our experienced advisors work closely with you to build the right path to help you achieve your goals.
FIND AN ADVISOR

Need help finding the nearest branch or ATM?
Find a location Click here to find a Johnson Financial Group location or ATM nearest you.