My Credit Score and Report
Free credit score, credit report and credit monitoring with MyJFG online and mobile banking.
Benefits
Tracking your credit score is easier than ever and can be viewed on your MyJFG dashboard.
4 Easy Steps for Getting Started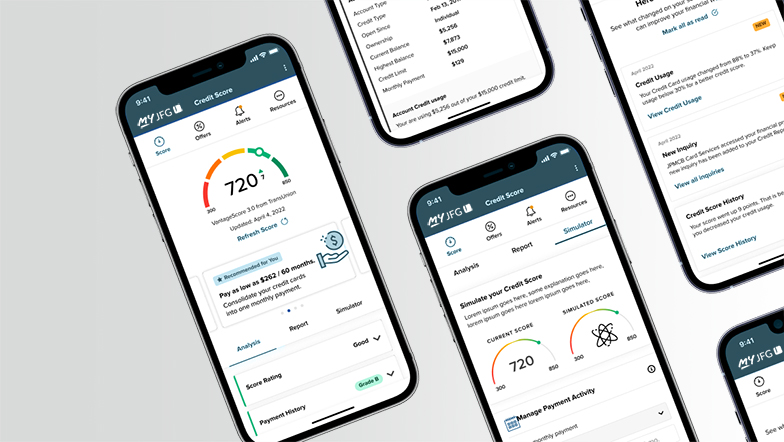 Enroll or Login to MyJFG
Select Show My Score on the Credit Score widget
Enter your date of birth, review and accept the Terms and Conditions
You may be prompted to verify your identity to complete the enrollment
ENROLL

in MyJFG
LOGIN

to MyJFG
Frequently Asked Questions
Credit Score and Report is a comprehensive Credit Score program available through MyJFG, to help you stay on top of your credit. You get your latest credit score and report, and an understanding of key factors that impact the score. You always know where you stand with your credit.
Credit Score and Report also monitors your credit report daily and displays the score in MyJFG online and mobile banking. You can receive email alerts if there are any changes detected such as, a new credit account being opened, change in address or employment, a delinquency has been reported or an inquiry has been made. Monitoring also helps you keep an eye out for identity theft.
The Credit Report provides you all the information you would find on your credit file including a list of current or previous loans, accounts and credit inquiries. You will also be able to see details on your payment history, credit utilization and public records that show up on your account. There is no impact to your score when you review the Credit Report.
The Score Simulator is an interactive tool that allows you to select various financial decisions you may take and see how your score could be affected. Different actions, like paying off a credit card balance might make your score move up or down. Just like checking your credit score through Credit Score and Report, using the simulator does not affect your actual credit score.
No. Checking your Credit Score and Report is always a "soft inquiry", which does not affect your credit score.
As long as you regularly access MyJFG, your credit score will be updated every 7-days and displayed within the MyJFG home page. You also have the ability to refresh your credit score and full credit report every 24-hours by clicking "Refresh Score" by navigating to the detailed Credit Score and Report widget within MyJFG.
Credit Score and Report pulls your credit profile from TransUnion, one of the three major credit reporting bureaus, and uses VantageScore 3.0, a credit scoring model developed collaboratively by the three major credit bureaus: Equifax, Experian, and TransUnion. This model seeks to make score information more uniform between the three bureaus to provide you with information about your credit health.
There are three major credit-reporting bureaus—Equifax, Experian and Transunion—and two scoring models—FICO or VantageScore—that determine credit scores. Financial institutions use different bureaus, as well as their own scoring models. Over 200 factors of a credit report may be considered when calculating a score and each model may weigh credit factors differently, so no scoring model is completely identical but should directionally be similar.
No. Johnson Financial Group uses its own lending criteria when making final loan decisions. Johnson Financial Group does not have access to your credit file unless you choose to share it.
You can choose to download or share your credit report with a trusted party. Easily download your Credit Report by navigating to the Credit Report tab and select Download Report.
Similar to MyJFG, encryption and security measures are used to keep your data safe and secure. Your personal information is never shared with or sold to a third party.
Your Trusted Partner for Life's Biggest Moments
No matter what financial needs you may have, we're here for you. Our experienced advisors work closely with you to build the right path to help you achieve your goals.
FIND AN ADVISOR