Imagine what's possible
We're a family company first and foremost. We cultivate an atmosphere that inspires, challenges and empowers associates to give their best at work, at home and in the communities where they live.
Be part of it.
BROWSE OPEN POSITIONS
Our mission is simple.
"It's always about people. It's always about having a positive impact. That's our responsibility."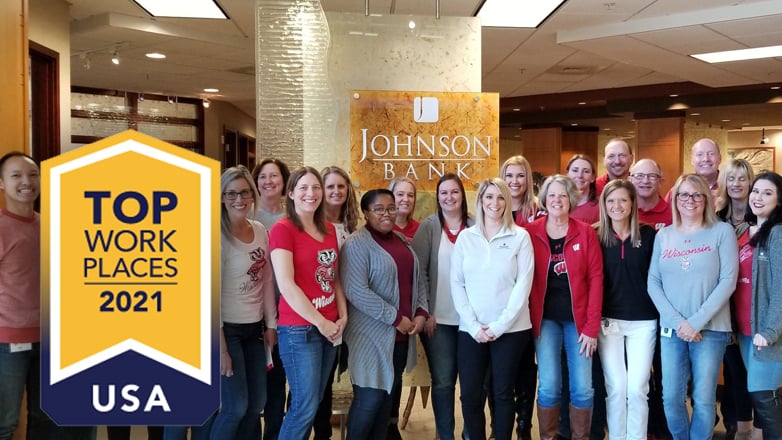 An environment like no other
We continue to make ourselves an employer of choice for prospective candidates, consistently attracting strong talent throughout our businesses. Our size, scope of service, private ownership and commitment to local communities have been compelling reasons why associates join JFG.
Empowerment leads to Equity
At Johnson Financial Group, we're committed to fostering a diverse, equitable and inclusive environment to bring out the best in our associates, our customers and the communities we serve. We believe that doing so is simply the right thing to do, while allowing us to be the best company we can be.
We also recognize that our success will ultimately be judged not by our intentions, but by our actions. As such, we are committed to the development of clear, actionable, and measurable initiatives to meet the needs of the diverse population we serve.
VIEW OUR ANNUAL REPORT

Click here to view our unique story.

80%
Percentage of our workforce that adapted to working remotely while serving customers without disruption

92%
Associates who say they are proud to work for Johnson Financial Group

86%
Employee Retention
Average employee tenure is 9 years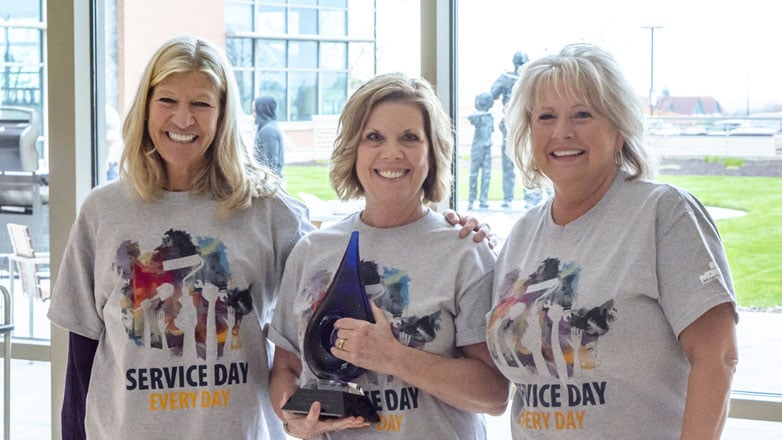 Investing in Wisconsin Communities
We are at our best when we partner with local communities, organizations and businesses.
Over 12,000 hours volunteered annually through board involvement and volunteer work
Over 1,100 associates support 60+ organizations on our annual Service Day
Each year we honor three associates who demonstrate their committment to their communities
What our family does for yours
To attract and retain the very best people, our benefits take every aspect of life into consideration – health, financial security, peace of mind.
Just a few of our outstanding benefits:
Competitive health, dental and vision insurance
Retirement savings plan with company match
Paid time off, including your birthday!
Tuition reimbursement
Wellness program and health club subsidy
Adoption assistance
Paid parental leave
Free and discounted banking services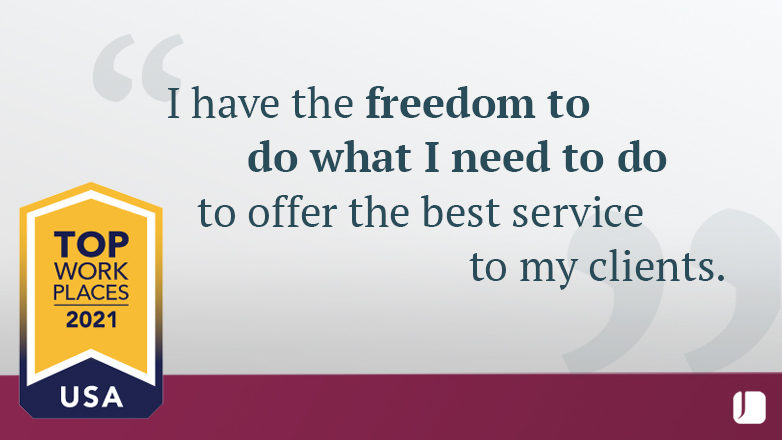 You're welcome here
The success of our company relies on the diversity of talent, experiences and perspectives of the people who work here. Inclusiveness is fundamental to our values – deeply ingrained and uncompromising.
Come as you are.
There are many exciting career opportunities within our organization. From crucial support positions to customer-facing roles, talent is key.
What makes a great workplace? The people, the opportunities and the chance to make a difference. Associates take a minute to reflect on what brought them to Johnson Financial Group – and what keeps them here.
Our workplace atmosphere inspires and challenges associates to give their best at work, at home and in the communities where they live. This is true for our very youngest associates, too.
Johnson Financial Group supports and is committed to the principle of equal employment opportunity. We make all employment-related decisions without regard for an individual's race, color, religion, sex, sexual orientation, age, national origin, citizenship, disability, veteran status, or any other protected status as required by law. We will make reasonable accommodations for qualified individuals with known disabilities unless doing so would result in an undue hardship. The company prohibits any form of retaliation or harassment against any associate who in good faith repots a violations of our equal employment opportunity policy.
Consistent with this policy, we provide a work environment that is free from intimidation, harassment or offensive behavior on the basis of any protected status under the law. We prohibit unprofessional or harassing conduct of any nature, including verbal or physical behavior or communication that a reasonable person would consider obscene, crude or inappropriate, or that creatives a hostile work environment.