#FreeBritney: When Protections Turn Toxic
As Britney Spears' circumstances make clear, the topic of substitute decision-making for vulnerable individuals has relevance for almost all lawyers, not only senior lawyers or those who practice elder law.
According to a 2018 estimate from the National Council on Disability, 1.3 million Americans currently live under the legal protection of a conservatorship or guardianship.1 The media coverage around the Britney Spears conservatorship shines a light on the role of guardians as they execute their fiduciary duties, the purpose of this protection, and the confusion and risks inherent in the legal process.
This articles uses the details of the Spears case to highlight issues relative to guardianship including a review of the similarities and differences that exist in the Wisconsin equivalent, possible alternatives to guardianship, and the newly galvanized effort in some states to explore less restrictive arrangements such as supported decision-making.
The Britney Spears 13-Year Conservatorship
The "Free Britney" hashtag has been a social media anthem for some time now. Only recently has 39-year-old Britney Spears herself spoken out against the conservatorship imposed 13 years ago after the star exhibited a series of concerning and very public behaviors.
Spears, commonly referred to as America's Pop Princess, entered the public arena at age 11. She performed as a member of Disney's rebooted Mickey Mouse Club House alongside Justin Timberlake, Ryan Gosling, and Christina Aguilera in the 1990s before becoming a top-selling pop artist. Fans and the paparazzi could not get enough of Spears' brand of sweet, innocent sexuality. The stress of her meteoric rise from small-town life in Kentwood, La., to becoming one of the most sought-after pop artists in the world became apparent in 2007 as images were shown of her riding in a car with her infant son on her lap, shaving off her signature blond locks, and attacking the paparazzi with an umbrella. This together with a bizarre performance at a music awards ceremony and at least two stays in a mental health facility caused many people to speculate about Spears' mental state.
This pattern of behavior and an apparent concern for Spears' health and well-being from those close to her resulted in Spears' father, James Spears, filing for and receiving an order for conservatorship in California in 2008. The details of the mental health and medical assessments remain private; however, the speed at which the conservatorship was granted seemed to indicate there was evidence she was in crisis and in need of protection at that time. This conservatorship gave James Spears constructive control of Britney Spears' finances, health, personal life, and business dealings.2 While the conservatorship was quickly met with rebuff3 from Spears' fans, there was little public comment from the then 27-year-old mother of two.
Britney Spears Objects. That changed in early summer 2021 when Spears addressed the court at a status conference to request a termination of the conservatorship, an option she alleged she did not previously know existed. On June 23, 2021, Spears testified that her conservator-father and the management team he hired were abusing her through the use of forced medication, denial of reasonable access to medical care, forced labor, intimidation, and excessive control over her money, relationships, and body.
Spears questioned the necessity of the conservatorship given her ability to work and employ others over the past decade. After the 2008 conservatorship was put in place, Spears worked on the television show X-Factor as a mentor before signing with Planet Hollywood for two consecutive two-year residencies in Las Vegas. Her net worth is rumored to be around $60 million. California Conservatorship Law. According to California law, a conservator of the person is necessary when a person is "unable to provide properly for his or her personal needs for physical health, food, clothing or shelter" and a conservator of the estate is necessary when a person is "substantially unable to manage his or her own financial resources or resist fraud or undue influence…. Substantial inability may not be proved by isolated incidents of negligence or improvidence."4
The California Code also provides for termination of a conservatorship at the request of the conservator, the conservatee, or any relative, spouse, domestic partner, friend, or other interested person on behalf of the conservatee.5 If the court determines that the need for the conservatorship is no longer required or that the grounds for the conservatorship no longer exist, the conservatorship must be terminated.6
Spears shared her confusion regarding the process for termination, highlighting a potentially common experience for those under conservatorship, during her testimony to the court. Spears stated, "Ma'am, I didn't know that I could petition the conservatorship to end it. I'm sorry for my ignorance, but I honestly didn't know that."7 Spears went on to ask the court for not only a termination of her conservatorship but also for the right to hire her own counsel; previous and current counsel have been court appointed. This high-profile case illustrates how vulnerable a person subject to a conservatorship or guardianship can be relative to the process.
Wisconsin Conservatorship Law is Different
Wisconsin does have conservatorships; however, they are defined quite differently than in California. Conservatorships in Wisconsin are a voluntary legal proceeding under Wis. Stat. section 54.76. Under a Wisconsin conservatorship, an adult resident who is unwilling to or believes they are unable to properly manage their assets or income may petition the court for the appointment of a conservator of the estate. Once a date is set by the court and notice is issued, the judge personally questions the individual petitioner. If the court is satisfed regarding the need for the conservatorship and the suitability of the proposed fiduciary conservator, the court will issue letters of conservatorship. The court also requires an inventory of the individual's assets and will assess a fee on their total value.
On average, 37 conservatorships are imposed in Wisconsin every year. While conservatorships are not commonly used, they can be useful for individuals who recognize they need help managing their finances and want that management to come with court oversight, which is not strictly required by a financial power of attorney.
California Conservatorship akin to Wisconsin Adult Guardianship
In Wisconsin, the most similar thing to the conservatorship to which Spears was subject is adult guardianship, governed by Wis. Stat. chapters 54 and 55. The level of control Spears described under her conservatorship (forced medication, inpatient treatment) seems more akin to an adult guardianship under Wis. Stat. chapter 55 (Protective Placement), the most intense and restrictive adult guardianship in the state of Wisconsin. Wisconsin averages 2,525 guardianships per year, and 70 percent of those also require protective placement.8
Least Restrictive Means
Under Wis. Stat. chapters 54 and 55, Wisconsin courts and guardians are required to act in a way that is the least restrictive yet consistent with the needs of the individual subject to the guardianship (hereinafter the ward). The goal of a guardianship is not to eliminate all risk from a person's life but rather to protect the ward from decisions that the ward is considered unable to make, particularly those that would result in an unacceptable risk of serious harm. The court and the guardian must strike a balance among the ward's interest in health and safety, freedom from abuse, personal liberty, legal rights, community integration, personal autonomy, appropriate treatment and habilitation, and personal growth.
Granting a guardianship when one is not needed can aggravate the very concerns that raised the question of guardianship. A loss of decision-making power reduces an individual's opportunity to learn to make choices, refine decision-making, and gain experience in trial and error, good and bad decision-making, and the natural consequences thereof.9
Dr. Leah Featherstone, a psychologist for Professional Services Group who writes evaluations for guardianships, says that "the main goal [of a guardianship] is to use the least restrictive safeguards to protect someone from harm. It's not just that people make bad decisions or might allow someone to take advantage of them, there must be a risk for ongoing exploitation or harm. To assess this, we often look at things like IQ, serious mental health disorders, or neurocognitive disorders and how those impact a person's ability to complete activities of daily living, avoid exploitation, manage their finances, and so on. Ultimately, guardianship is about protecting an individual with the least restrictive means possible."
Finding the balance between health and safety and personal autonomy can be contentious. To alleviate some overbreadth in state law, the Wisconsin Legislature enacted 2005 Wis. Act 387, which made significant changes to guardianship and adult protective services by carving out safeguards for personal liberties to ensure that the terms of the guardianship did not amount to an overuse of power. According to Matt Perz, Kenosha County senior assistant corporation counsel, "Some states still use plenary guardianships, in which guardians have full authority over their wards, however, Wisconsin law requires that we identify which rights are removed. The ward retains all other rights not identified as removed."
In Wisconsin, the most similar thing to the conservatorship to which Spears was subject is adult guardianship, governed by Wis. Stat. chapters 54 and 55.
Additionally, the state of Wisconsin requires annual oversight of Wis. Stat. chapter 55 protective placements to ensure that wards are kept in the least restrictive environment and that protective placement is still appropriate for the ward. These reviews, commonly referred to as "Watts reviews," were established in 1985 by State ex. Rel. Watts v. Combined Community Services Board.10 The court held that "there must be an annual review of each protective placement by a judicial officer" after it deemed protective placements of an indefinite amount of time amounted to a deprivation of the ward's equal-protection and due-process rights.11
The Watts court went on to guarantee that these reviews would include the appointment of a guardian ad litem to represent the best interest of the ward. In doing so, the guardian ad litem has a duty to meet with the individual ward, review the annual report, and advise the ward and the guardian of the ward's rights to have an attorney appointed, to have an independent evaluation, and to request a full due-process hearing on the need for a continued protective placement or on the appropriateness of the placement facility. The guardian ad litem must then report to the court on whether the individual continues to need protective placement and whether the ward or guardian is requesting a change in placement, appointment of counsel, or a due-process hearing. The review required by the Watts holding was codified in Wis. Stat. section 880.331(5) (duties in review) and is not performative. It is vital in ensuring that no adult under such placement be indefinitely deprived of their rights if their circumstance change and require fewer or no protections.
Guardianships also sometimes include provisions for protective services, which would include orders for the use of psychotropic medications, such as Spears described in her testimony to the court. Involuntary-medication orders are not granted lightly and must be reviewed annually according to Wis. Stat. section 55.19.
Although Wisconsin has made significant progress in protecting the rights of wards under a protective placement, the state lacks comparable control and oversight of guardianships without protective placement or services. In the case of a guardianship under Wis. Stat. chapter 54, a petition for guardianship will have court review when it is brought, but the court, including a court-appointed guardian ad litem, might never see the ward after the guardianship is granted.
Attorney Lisa Bouterse has been a guardian ad litem in Kenosha County for 30 years, acting on behalf of the best interests of hundreds of individuals. She notes, "There are no further court hearings scheduled after a guardianship is granted. The GAL is discharged, and the only oversight is a mandatory annual accounting for guardianship of the estate and a single-page annual report on the condition of the ward for guardianship of the person, both of which are filed with the probate court. Should the need arise to review any conduct of the guardian along the way, an interested party can file a petition for review on conduct of the guardian. However, a surprising number of people don't know that form exists so it's a somewhat unknown avenue."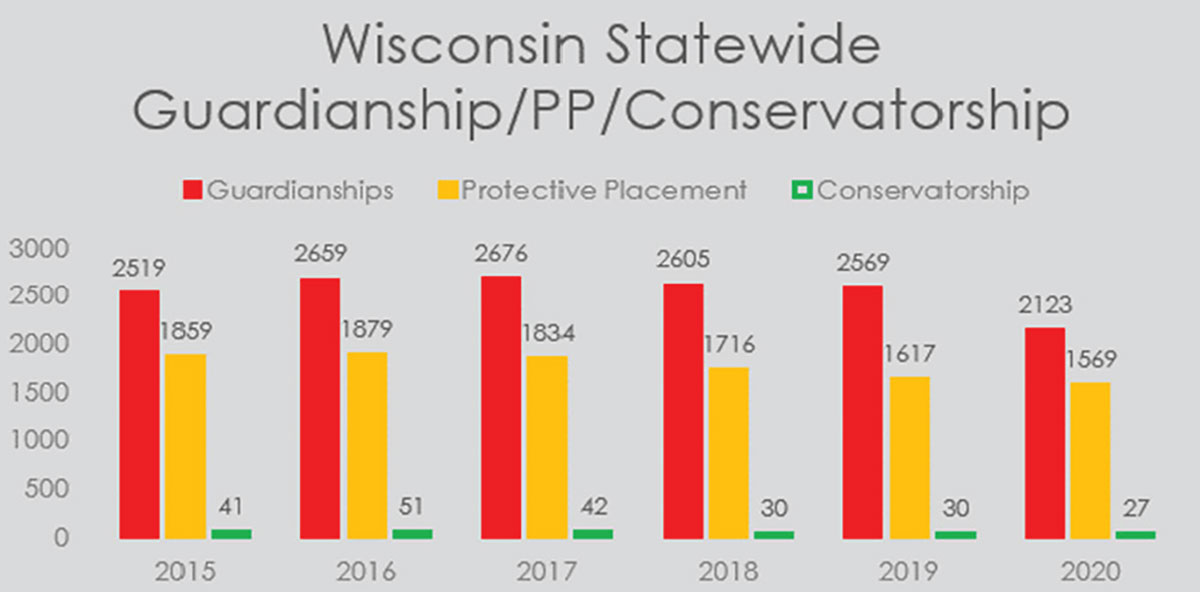 Support Model and Time-Limited Guardianships
In recent years there has been a shift in many states from a long-term care philosophy for guardianship to a "support" model. Minnesota recently made numerous changes to its guardianship laws to help promote supported decision-making and other less restrictive alternatives to guardianship. Among the changes made in Minnesota are time-limited guardianships, which automatically limit the guardianship to 72 months for anyone under the age of 30. After 72 months, a new petition must be filed for the guardianship to continue. A court can limit guardianship for individuals over age 30 at its discretion.12
According to attorney Polly Shoemaker, with the Greater Wisconsin Agency on Aging Resources, the process for managing a guardianship can be cumbersome for wards, particularly those who are young when the guardianship is granted. "There has been a lot of discussion about the possibility of some legislative reform to have guardianships reviewed on a regular basis. We know that, especially for young wards, circumstances change as they age and mature. As they develop, the need for guardianship may dissipate and the ward should have a right to have that guardianship reviewed automatically by the court and be advised of their right to have an attorney appointed by the court."
One concern with time-limited guardianships is the burden they would create financially because each review could be costly, and the expense typically would be borne by the ward. A typical guardianship includes court costs, guardian ad litem fees, attorney fees, and potential expert fees each time a guardianship must be renewed. Totals for the proceeding are typically $2,000-$5,000 but depending on the complexity of the situation could be much more.
Currently, in Wisconsin, a ward must file a petition if they wish to have a guardianship reviewed and terminated. That petition must be signed and notarized, and wards who do not want to represent themselves must ask the court to appoint a lawyer to represent them. This right to petition for termination is the tool that Spears, with the privilege of a multi-million-dollar estate, claims she did not understand she had at her disposal. With no requirement of an annual disclosure of the right to terminate guardianship under Wis. Stat. chapter 54, a ward might not be aware of this option.
Protecting Individuals
While it is unclear how many adult guardianships exist in the state of Wisconsin (they are reported annually by each county but cumulative data with total current guardianships is not part of annual statewide reporting), it is likely that increased life expectancies will lead to increased need for these protections as the aging population faces health issues that can affect competency.
The Hon. Charles Constantine, a retired Racine County Circuit Court judge, suggests individuals take seriously the creation of health-care and financial powers of attorney to clearly specify who their trusted agents are in the event of incapacity. He says, "Families should consider professional financial fiduciaries or trust companies to handle their estates as these professionals have the resources, expertise, and objectivity that often well-meaning family members do not." Judge Constantine says that legal proceedings and significant family conflict can be avoided with proper advance planning.
Guardianships can be a necessary tool for individuals who do not have the capacity to make other arrangements. However, a greater awareness of advance planning, with a particular emphasis on powers of attorney, allows an individual to choose an agent to exercise their rights. This can provide protection and limit the necessity of an abdication of their rights through a complex guardianship proceeding. It is important to note that powers of attorney do not require court oversight or accounting, making it crucial that the individual select a trustworthy agent. While powers of attorney can help avoid the need for a guardianship or conservatorship, they can also present a risk for an individual if the agent does not adhere to their fiduciary responsibilities. Court oversight of financial matters in a guardianship or conservatorship adds a bureaucratic burden but also a layer of protection.
A greater awareness of advance planning, with a particular emphasis on powers of attorney, allows an individual to choose an agent to exercise their rights.
What's Ahead for Britney Spears
The Spears case continues to unfold. Since Spears' address to the court in June, Spears' father, denying any accusation of wrongdoing, filed a document with the court agreeing to step down as conservator of his daughter's estate. According to his attorney Vivian Thoreen, James Spears will step down "when the time is right, but the transition needs to be orderly and include a resolution of matters pending before the court."13 James Spears claims that his motivation for the conservatorship has been unconditional love for his daughter and a fierce desire to protect her from those trying to take advantage of her. His is a common and compelling parental sentiment. However, competent does not necessarily mean well-behaved or consistent good judgment.
Britney Spears' version of her experience is quite different. She describes the conservatorship as years of excessive control, abuse, and unnecessary overreach motivated by the conservator's self-serving, conflicting interests, resulting in restrictions far beyond protecting her needs and best interests. Some of her more eccentric behaviors could be seen as just that – eccentric but not necessarily evidence of incapacity. Additionally, Britney Spears' attorney, Mathew Rosengart, accuses Mr. Spears of extortion, claiming his offer to step down as conservator comes with a request for $2 million to cover the cost of his attorneys and media experts, on top of "the millions already reaped from Ms. Spears' estate."14
Since her father gave notice of his intent to step down as conservator, Spears announced her engagement to her long-term boyfriend before deleting her Instagram account in advance of the court hearing scheduled in late September.15
At the time this article went to press on Sept. 24, 2021, it was anyone's guess what might happen next in Spears' case. According to Britney Spears' attorney, "Mr. Spears is obligated to step down without condition…. And if he does not, the [court] must suspend him on September 29th."16 Will the Spears case of overprotection continue to play out as a toxic family drama for the world to see? Will the court allow her the opportunity to make mistakes and learn on her own going forward?17 While we don't know if the court will see the issue through Britney Spears' perspective, what we do know is that balancing the need to protect those who require support without infringing unnecessarily on their revered constitutional rights will likely continue to be the subject of ongoing debate, a debate brought into the public discourse by the troubling case of America's Pop Princess.