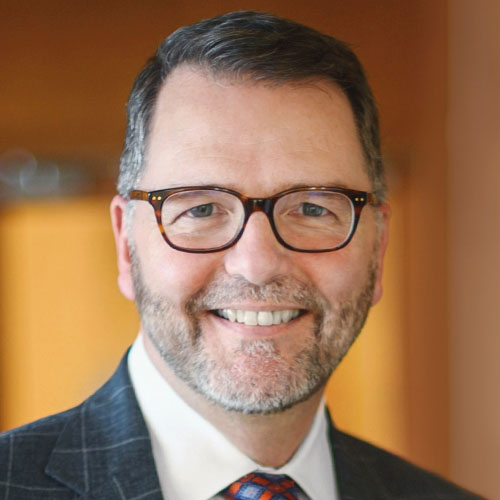 Brian Andrew
President and Chief Investment Officer
CFA®
555 E. Wells Street, Suite 1900
Milwaukee, WI 53202
REQUEST APPOINTMENT
Providing consistent, actionable investment solutions.
Brian is responsible for managing the Wealth business and leading the investment team who builds our global investment platform to create solutions for institutional and individual clients. He is also responsible for the strategy of our multi-disciplinary Wealth business including trust, investment advisory, retirement plan and brokerage services.
Experience
Joined Johnson Financial Group in 2015 as Chief Investment Officer with more than over 30 years of asset management experience
Began to lead Johnson Financial Group's Wealth business in 2018
Experience managing asset management companies, mutual funds, investment and research teams, individual and institutional client portfolios (institutional clients include non-profit health care, foundation and university endowment funds as well as corporate pension plans)
Bachelor of Science in Business and Finance from the University of Minnesota, certificate from the Harvard/CFA asset management program and CFA® designation holder
Certain advisors are employees of Johnson Bank and Johnson Wealth, Inc. Additional information about Johnson Wealth, Inc. and its advisors is available on the SEC's website at www.adviserinfo.sec.gov. Johnson Financial Group and its affiliates do not provide legal or tax advice. Please consult your own professional advisors.
Ask Me About
Investments
Retirement and Financial Planning
Wealth Strategy
Community Involvement
Board member of Special Olympics Wisconsin; Investment advisory board member of the National Hemophilia Foundation Venture Fund, LLC; Previous board chair and treasurer for the National Hemophilia Foundation
Large RIA market CIO investment advisory council for BlackRock and JP Morgan Asset Management; Pershing advisory council for RIAs
Advisory committee member for Marquette University's Applied Investment Program; Previously adjunct faculty member for IE University in Madrid, Spain; UW – Milwaukee; Concordia College
Previous advisory board member for UW-Milwaukee – College of Health Sciences; Previous board member for Milwaukee Suburban Economic Development Committee and school commission member for St. Charles School – Hartland, Wisconsin