Start the Conversation - Protecting Your Child's Privacy Online
Conversations about cyber safety could be one of the most effective tools for parents to protect children against online threats.
SUBSCRIBE

to our insights blog.
Since the beginning of the COVID-19 pandemic, many individuals have embraced technology to accomplish everyday tasks and activities. From online grocery orders, to remote educational tools and virtual happy hours, limited in-person interactions have resulted in a stronger adoption of digital technology platforms. Due to various pandemic cautions and restrictions, individuals – both adults and children – are also turning to online sources of entertainment.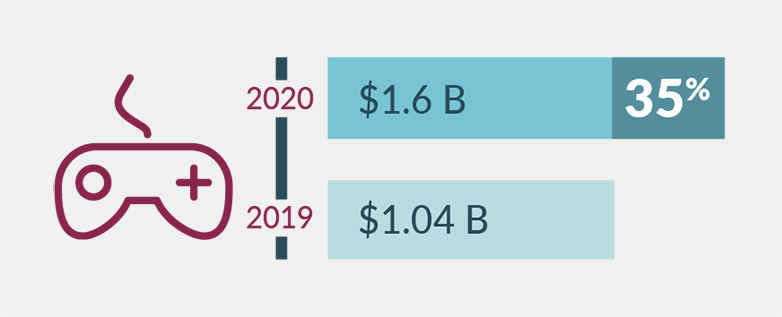 $1.6 BILLION
According to NPD, video game sales in March approached $1.6 billion, representing a 35% year-over-year increase.
Increased Screen Time and the Rise of Cyber Fraud
Even before the pandemic shutdowns, children and teens were spending much of their time on the Internet and social media. The Pew Research Center's 2018 report on Teens, Social Media & Technology, found that 95% of American teens (ages 13–17) have a smartphone or have access to one. Ninety percent say they're online "almost constantly" or several times a day, with most time spent on social media apps – primarily Instagram, Snapchat and YouTube. In 2018, American children and teens were victims of 21,926 reported fraud cases, which totaled $15 million in losses, and 14,239 reports of identity theft.
When it comes to cyber security, 59% of teens see their parent's guidance as the most influential. As children engage online through apps, games, social media sites, and even virtual learning, parents play an important role in teaching children safe security practices. Bushra Latif, VP, Bank Fraud Program Manager, shares a few precautions that parents can take.
Creating a Safe Online Experience
Cyber bullying, cyber predators, phishing and malware attacks all pose threats to children online. Talk to your kids about being careful with what they post on social media and the risks of sharing personal information.
Avoid sharing personal identifying information.

Any information that identifies a child individually should always be kept private, including your child's name, address and Social Security number.

Update privacy and security settings.

Make sure to install anti-malware protection and update your computer and mobile devices with the latest operating systems and software.

Use secure Wi-Fi.

Encourage your child to avoid using public Wi-Fi connections which may not protect passwords, messages, photos and account information. Set up multifactor authentication. Multifactor authentication provides an extra layer of security upon login and serves to mitigate risk of compromised passwords.

Watch for red flags.

Advise your child to be cautious of suspicious URLs, grammatical errors, modified logos or web addresses. Instill caution for pop-up windows or unsolicited texts or emails, especially any message that offers easy money or quick rewards. If something sounds too good to be true, it probably is.

Review other resources.

The Children's Online Privacy Protection Act (COPPA), enforced by the Federal Trade Commission (FTC), gives parents control over the information that websites can collect from their children. If a site or service is covered by COPPA, parental consent must be provided before personal information is collected from children under 13 years of age.
Games and Apps
Before downloading an app or game, consider the following tips.
Read the privacy policy.

Understand how your child's information will be used. Will it be sold or shared with outside parties?

Understand and evaluate access.

Be cautious about an app that accesses your device's camera, microphone, location or contacts. Discuss whether it makes sense for the app to access this information based on the type of service or entertainment it provides. Remember – you have a choice regarding the access you allow.

Download from the official app store.

Always download apps from the official app store – never through an unsolicited pop-up, text or email.

Consider parental control software.

If your child has their own personal device, parental control software provides additional protection over your child's online activities. This software can block certain apps and prevent a child from mistakenly making in-app purchases without a parent's consent.
Remote Learning
With the 2019-2020 school year closing with an unexpected period of remote learning and many schools returning to virtual education formats in the fall, parents may have questions about how to protect their student's privacy.
Learn about the school's protective measures.

Talk to your child's school about what security measures are in place for video conferencing and school-provided devices.

Understand how information is stored and accessed.

When filling out forms for school or extra-curricular activities, ask why certain information may be needed. For example, if a document asks for a child's Social Security number, find out why and how it will be used. The Family Educational Rights and Privacy Act (FERPA) protects the privacy of student records, allowing parents to opt out of sharing certain information with third parties.
Why it matters
An identity thief could use your child's Social Security number or other personal information to fraudulently apply for loans or government benefits, or to open credit card accounts. Warning signs may include collection calls, bills for products or services you did not receive, unsolicited offers from creditors or unexpected notices from the IRS.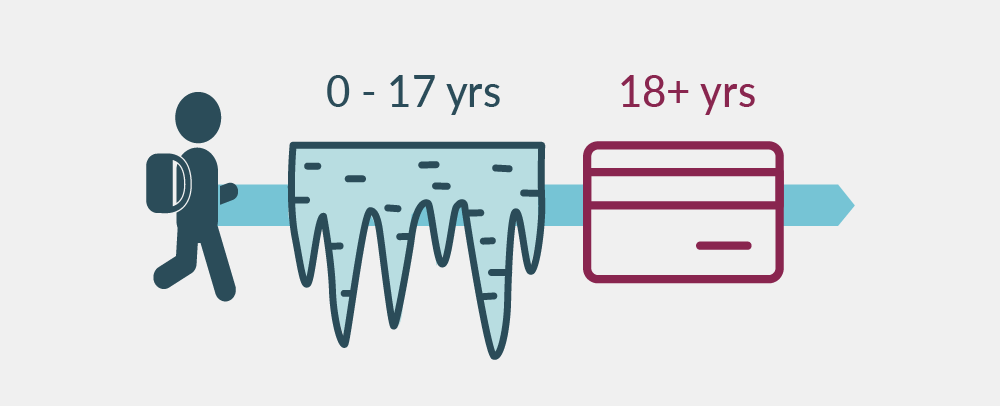 FREEZE YOUR CHILD'S CREDIT
Consider freezing your child's credit until they are 18 to prevent identity thieves from abusing your child's information and opening accounts in their name.
What to do if your child becomes a victim of fraud
Make sure to contact the three national credit bureaus to remove any fraudulent accounts from your child's credit report. Get in touch with necessary institutions to close accounts and confirm that you are not liable for any debt. Lastly, remember to report the case of identity theft to the FTC.
Start the dialogue
Through open and honest conversations, you can empower your child to make safe and responsible decisions when engaging in online activities. When in doubt, encourage your child to ask questions and to talk to a trusted parent or adult about any concerns.
For additional resources and tools, visit our Security Center.