Scammers Prey on Emotions – Tips for Protecting Your Financial Information
Understand common scam tactics related to COVID-19 and how you can stay on guard.
SUBSCRIBE

to our insights blog.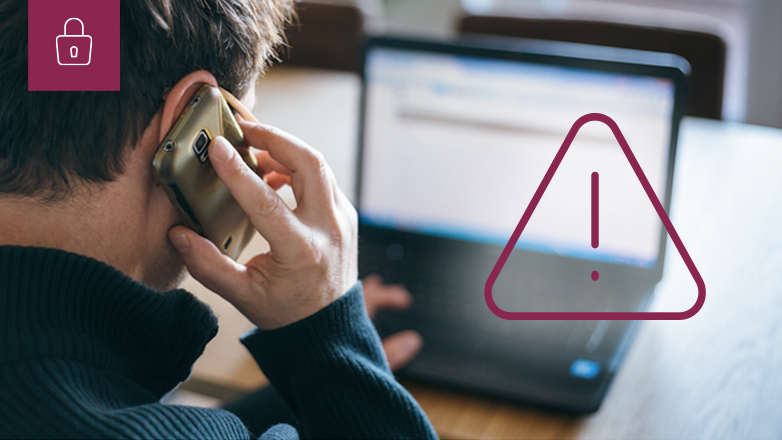 As Coronavirus (COVID-19) continues to dominate news headlines, it's easy to become overwhelmed by an overload of information. In fact, since the outbreak began in the U.S., more than 6,000 new Internet domain names have been registered with keywords around the topic. The number continues to grow.
Unfortunately, scammers use crises and times of uncertainty to exploit individuals and companies of all sizes. By pretending to be an individual or organization a victim knows or trusts, fraudsters are taking advantage of the uncertainty and fear around the coronavirus to employ sophisticated phishing techniques and scams. They have one goal in mind: gaining access to a victim's personal information and money.
While it's important now more than ever to stay healthy during this time, it's critical that you protect your financial health as well. Bushra Latif, VP Bank Fraud Program Manager, shares some prevalent scams and the steps you can take to protect your identity and your finances. Keep in mind – scams related to coronavirus can happen through a variety of channels at work or at home.
Common Scams and Telltale Signs
Charity Scams
Some scammers are seeking donations toward illegitimate charities. They may likely ask for donations for people experiencing financial hardships or request money in support of vaccine research or medical supplies for healthcare facilities facing shortages. They may even impersonate a legitimate charity to increase the success rate of their attempts.
Telltale Sign: A real nonprofit organization will never ask for your personal information unsolicited.
What to do: Exercise caution if a charity contacts you first. Visit the charity's website and find their legitimate phone number to verify and make any donations. If you are looking for a reputable nonprofit organization to support, researching your local United Way is a great place to start.
Phishing Emails & Text Messages
More than 92% of all cyberattacks begin with a phishing email. Scammers may try to gain access to your personal information or finances through email or text messages, which often contain malicious links or attachments.
Telltale Signs: Be on guard for messages that:
Claim to have important updates or cures around the virus
Appear to be selling COVID-19 tests or related supplies like masks and sanitizers
Request money or personal information like your Social Security number, PIN #s or login credentials
Refer to an order or request that you never made
Have a sense of urgency, impersonal greeting and/or grammatical errors
What to do: Be skeptical of all emails and messages related to COVID-19. Never respond with sensitive information, and avoid clicking links. Clicking on malicious links could put you at risk for identity theft or malware attacks. If you were not expecting an email or text message, report the message or call the sender (if known) to verify.
Robocalls
Scammers are using robocalls as another method of tricking individuals into sharing personal information. They may pretend to be an official from a legitimate organization pitching anything from coronavirus home test kits to proposed treatments.
Telltale Signs: Poor audio quality is an automatic red flag. Additionally, pay attention to a speaker who tries to mask, disguise or alter their voice.
What to do: When in doubt, hang up!
Misinformation
The popularity of social media platforms has resulted in widespread and easy access to news and information. According to a Pew Research Center report, 55% of U.S. adults now get their news from social media. The caveat? Not all of it is true. In times of uncertainty especially, fake news can lead to an enhanced sense of fear and panic, causing uninformed audiences to let their guard down further.
Telltale signs: Fake news often aims to generate an extreme emotional response, including feelings of surprise, fear or anger. Among other telltale signs, fake news stories may include catchy or unbelievable headlines, a lack of evidence and manipulative images or videos.
What to do: Do your research. Fact check information using established news sources and reputable websites like: Centers for Disease Control and Prevention (CDC), World Health Organization (WHO) and the Better Business Bureau (BBB) in addition to your state's health department websites. For financial assistance and updates related to COVID-19, you can also visit our COVID-19 Resource Pages for individuals and for businesses.
Economic Relief Scams
Scammers are pretending to be government representatives offering fake grants or assistance to those experiencing financial hardships due to COVID-19.
Telltale Signs: The government will never communicate with you on social media, and you will never be required to pay a fee to receive funds.
What to do: If you receive a message or see a social media post claiming that you qualify for a special COVID-19 government grant, do not provide your personal information. For recent information on the government's economic stimulus efforts, read our latest article on the CARES Act.
Work-at-home schemes
With many Americans experiencing a loss of income, fraudsters are sending messages about fake work-from-home opportunities.
Telltale Signs: If an alleged employer asks you to pay upfront for supplies, equipment or irrelevant certifications, there is a good chance it is a scam. To determine if a job is legitimate, pay attention to whether or not the employer can provide specific information about job duties, paychecks and salary.
What to do: Be wary of anyone contacting you with a work-from-home opportunity. Make sure to verify the company with your local consumer protection agency and the BBB. If it sounds too good to be true, it probably is.
Romance Scams
With heightened feelings of isolation due to social distancing mandates, people may turn to online dating apps or sites to meet a new friend or online love interest. Scammers will create fake profiles as a method of tricking victims into sending money.
Telltale Signs: A scammer disguising themselves as your new friend may ask you to send them money or conduct financial transactions on their behalf. Be aware of someone who claims to be living or traveling outside of the country. At first glance, the stories may sound believable – payment requests for travel, medical expenses or other debts. A scammer will likely ask their target to pay by wire transfer, reloading gift cards or through payment apps like Zelle and Cash App – anything that gets them quick access to cash.
What to do: Exercise caution when communicating with individuals that you meet online, especially if they request financial transactions or assistance. Don't send money or gifts to someone you haven't met in person. If you suspect a romance scam, get input from someone you trust, and cut off communication if necessary. Contact your financial institution immediately if you think you've sent money to a scammer.
Keep Your Information Safe and Secure
We take the trust you place in us to protect your financial information seriously. Don't hesitate to reach out to your advisor if you encounter something suspicious or believe your financial information has been compromised. Additionally, remember these tips to keep your information secure:
Be overly cautious in times of uncertainty. If it doesn't feel right, it probably isn't.
Slow down! Take your time reading messages. (An average user spends 11 seconds per email).
Before going to an unfamiliar website, check the URL with free resources like VirusTotal or URLScan. You can also hover over the link to ensure it reveals the intended web address.
Keep your computers and mobile devices up to date. Having the latest security software, web browser, and operating system are the best defenses against viruses, malware and other online threats. Turn on automatic updates so you receive the newest fixes as they become available.
If you believe you've been a victim of identity theft, understand the steps you should take to resolve and repair your identity.
For more guidelines on keeping your information safe, visit our Security Tips page.