This is part of an ongoing series of articles published by Johnson Financial Group. This issue is written by Brian Andrew, EVP Wealth and Chief Investment Officer.
Most warm weekends, I take an hour or two before 8 a.m. to clear my head and think about markets and the business of investing while motorcycling through the Kettle Moraine forest. Occasionally, I'll detour through the many communities surrounding the Milwaukee Metro area. Recently, I've noticed a preponderance of signs indicating that businesses are hiring. Last weekend, I counted 23 on a 125 mile ride.
Jobs
Last Friday, we received a report on employment from the Bureau of Labor Statistics. Because markets have become obsessed with the possibility of a dramatic economic slowdown leading to a recession, these reports are scanned more closely.
The unemployment rate was unchanged at 3.7%. Job gains were somewhat muted from the 2019 average of 158,000 per month, up only 130,000. Last year, the monthly average was 223,000. It isn't surprising that growth is slower. As unemployment remains below 4%, it becomes more difficult to find employees, and the monthly addition of jobs will decline.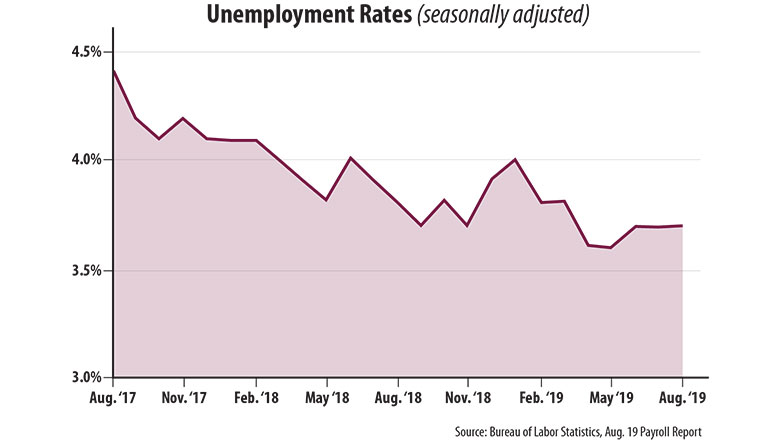 This means that there are six million people unemployed in this country. Given the number of hiring signs seen over the weekend, we can surmise that these people don't have matching skills, aren't located where the jobs are, or have some other reason for not working. At a minimum, the "long‐term unemployed" (jobless for 27 weeks or more) likely fall into these categories and represent about 1.2 million people. It may be that those hiring signs are a reflection of job strength in the part of the economy not affected by a global slow down.
The health care and business/computer services sectors accounted for half of the jobs created last month, while construction and manufacturing were little changed. This is consistent with what we see from the economy. Manufacturing is experiencing slower growth, and in particular, those businesses most tied to global trade are hurting most.
Income
The other part of the report last Friday showed that earnings have grown by 3.2% over the last year. The average hourly earnings for all employees was reportedly $28.11. With wages growing and unemployment remaining below 4%, we see a recession farther off than some are currently saying. Wage growth and jobs lead to consumption, which is good for the economy.
Recently, we've seen a return to stocks that have been out of favor as the global growth picture continues to darken. Still, we believe it's important to be a better buyer of companies that benefit most from global growth when it is least expected.
While the Saturday morning ride survey is anecdotal, it is consistent with the data we see regarding the economy.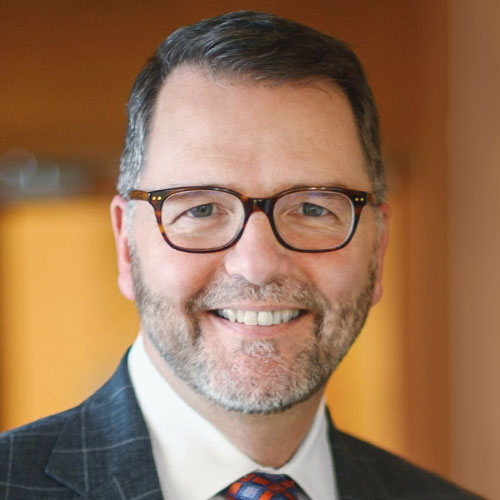 by Brian Andrew
As Chief Investment Officer, Brian Andrew leads Johnson Financial Group's investment strategy to provide consistent, actionable investment solutions for our clients.
READ MORE

about Brian Andrew.
This information is for educational and illustrative purposes only and should not be used or construed as financial advice, an offer to sell, a solicitation, an offer to buy or a recommendation for any security. Opinions expressed herein are as of the date of this report and do not necessarily represent the views of Johnson Financial Group and/or its affiliates. Johnson Financial Group and/or its affiliates may issue reports or have opinions that are inconsistent with this report. Johnson Financial Group and/or its affiliates do not warrant the accuracy or completeness of information contained herein. Such information is subject to change without notice and is not intended to influence your investment decisions. Johnson Financial Group and/or its affiliates do not provide legal or tax advice to clients. You should review your particular circumstances with your independent legal and tax advisors. Whether any planned tax result is realized by you depends on the specific facts of your own situation at the time your taxes are prepared. Past performance is no guarantee of future results. All performance data, while deemed obtained from reliable sources, are not guaranteed for accuracy. Not for use as a primary basis of investment decisions. Not to be construed to meet the needs of any particular investor. Asset allocation and diversification do not assure or guarantee better performance and cannot eliminate the risk of investment losses. Certain investments, like real estate, equity investments and fixed income securities, carry a certain degree of risk and may not be suitable for all investors. An investor could lose all or a substantial amount of his or her investment. Johnson Financial Group is the parent company of Johnson Bank, Johnson Wealth Inc. and Johnson Insurance Services LLC. NOT FDIC INSURED * NO BANK GUARANTEE * MAY LOSE VALUE