Your Financial Life
Ten Ways to Budget and Save for the Holidays
6 minute read time
The holiday season is just around the corner. And while the holidays are supposed to be a time of good cheer, the hustle and bustle of the season can lead to the stress of balancing holiday shopping, decorating, entertaining and more.
Holiday spending can add up quickly. By creating a holiday budget, you can take control of your finances and turn unexpected expenses into intentional decisions this season. This article shares ten ways to budget and save so you can enjoy the holidays without sacrificing your long-term financial goals.
1. Prioritize saving throughout the entire year.
Saving for the holidays shouldn't start on Black Friday; it needs to start on January 1. Doing so puts you in a better position to pay for gifts at the time of purchase instead of making credit card payments well into the second quarter of the next year. Set up a separate savings account just for holiday expenses and designate a set dollar amount to automatically come out of each paycheck. Watch it grow over the course of the year, but don't touch the funds. If you are paid every other week, saving $5 dollars each pay period is another $130 towards your holiday budget. Start small and ramp up the amount each year if you are able. It may be a huge stress reliever come December.
2. Create a holiday budget.
Start by writing down the names of your gift recipients and allocate an approximate dollar amount you are willing to spend on each person. Keep the list of names in a spreadsheet or an app from year to year and use it to reset your budget as your start to plan for the next holiday season. Try to stick to the list as you shop but be prepared for some last-minute additions.
While this is a great first step, don't stop there. Consider other categories of the season – dinners and drinks with friends, travel, decorations, and of course – let's not forget gift wrap.
3. Monitor your budget and track your holiday spending with MyJFG.
MyJFG is a great place to start your holiday budget. The enhanced digital banking solution is easy and intuitive to get you through the holidays without turning into Ebenezer Scrooge. Once enrolled, transfer some start-up money into your account, set up a regular transfer into the account, and monitor your balance throughout the year.
When you're ready to start spending, monitor your account activity and use Bill Pay to make payments. To keep track of your total holiday spending, check out the Budget tab within the MyFinance Manager tool and create a "sub-budget" for holiday expenses. This will allow you to categorize gift-giving expenses and other miscellaneous expenses that can add up during the season.
4. Use rewards points.
When you begin shopping, consider using a rewards-based credit card to make your purchases. At the end of each shopping trip, whether in-store or online, add up your purchases and immediately make the payment to your credit card. Believe it or not, you don't need to wait to receive your monthly credit card statement to make a payment. If you want to supplement your spending power during the holidays, bank your rewards points on your credit card over the course of the year and use them for a statement credit for some of your holiday purchases.
5. Utilize online apps and tools to manage holiday wish lists and find deals.
Online tools and apps can supplement your budgeting efforts, and they can be fun too. Visit the app store on your phone, search "holiday budget manager" and find a handful of free tools that could be game changers for your holiday shopping. Certain apps will allow you to import your recipient list from your phone's contacts, set an overall budget, and keep track of your spending along the way. You can also find links to wish lists you've previously saved with specific retailers, offer gift ideas, and find the official countdown to Christmas and any other celebration you may want to add.
6. Shop early.
With online shopping becoming more popular, no longer can you count on Black Friday as the kick-off to holiday savings. Instead, retailers are each setting their own start to the holiday shopping season. The good news is these retailers are heavily advertising to ensure consumers know when to line up at their door or visit their website. With key dates usually beginning around the first of November, you may likely see your inbox and social media sites start to fill with promotions.
Shopping early may save you money. When shopping online, save the items in your wish list and monitor the price. Watch for the items to go on sale or for the retailer to potentially offer free shipping on your purchase. If you're shopping in person and unsure if the price is a good deal, scan the UPC code into the Amazon app. If it's offered at a better price online, shopping early will allow you time for shipping. Long story short, it's never too early to start your holiday shopping.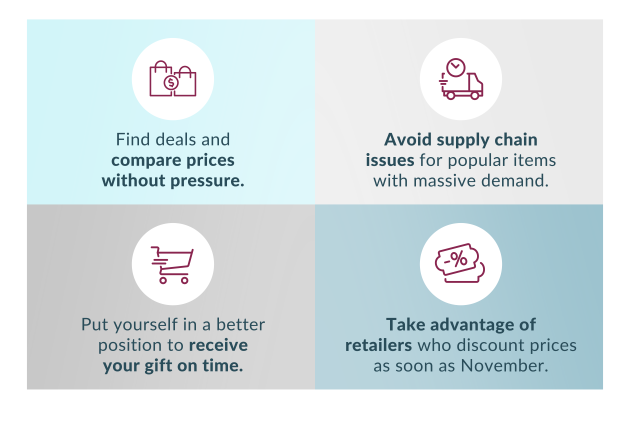 7. Shop small.
Along with Black Friday and Cyber Monday, keep in mind the business owners in your own community. Small Business Saturday is a great opportunity to shop local and find something unique that may not be offered online to the masses.
8. Consider unconventional gift ideas.
If you are creative, put your talents to the test and make a gift. You can also offer your services to someone, such as babysitting. This way your friends or family can get a free night of babysitting and go out for dinner or a movie. For some, this type of present will beat anything you could possibly buy on Amazon.
If you're getting together with friends or co-workers, suggest a white elephant theme. This way, you can skip the cost of buying a gift and instead part with something that has been collecting dust on your shelf.
9. Make new holiday memories and traditions.
Creating new traditions and experiences can be a great way to save money while building rich memories with family and friends. Some examples might include cutting and decorating a tree together or strolling through local neighborhoods and parks, admiring the lights.
10. Remember the reason for the season.
If cutting down a tree isn't for you, no problem. Could you gather some friends to volunteer at a local food pantry or soup kitchen? Volunteering any time of the year can be rewarding, and even more so around the holidays. If you have the means, it could be as simple as picking a name from a giving tree at your place of work or worship and spending $10 on a toy or a pair of mittens for a child in need. You can even enlist your friends or family to support the cause and sponsor a family instead of buying gifts for each other.
For more holiday budgeting and saving tips, contact an advisor today.