Umbrella Insurance – An Added Layer of Protection
If you own a home and a car, you likely understand the value of homeowners and auto liability insurance. But what happens if you exceed the limits of your home or auto coverage? Your typical homeowners or auto liability coverage only stretches as far as the coverage designated in your policy.
If you're looking for an additional layer of protection for you and your family, umbrella insurance can provide you with peace of mind. Consider umbrella insurance a safety net for your personal savings and items of value should you face an unexpected accident or lawsuit. Justin Staebler, VP Personal Insurance Sales Manager, provides information on how this extra liability coverage can protect you and your assets.
Umbrella insurance provides coverage beyond your existing homeowner, auto or watercraft insurance policies. In many higher sum injury or damage cases, your standard policy limits may not provide enough coverage, leaving you responsible for the monetary difference.
Expect the Unexpected
Here are a few common examples of how umbrella insurance can provide additional coverage in unexpected circumstances:
Your dog bites someone visiting your home.
While dog bites are typically covered by a homeowner's insurance policy, there are some situations where this may not be the case. For example, if there are expenses or a lawsuit for amounts above your liability limits, an umbrella policy would cover the additional amount.
You get into a boat or car accident, causing injuries to your passengers.
Accidents happen. If you or a family member accidentally injures someone, umbrella insurance will provide coverage above your standard auto or watercraft liability coverage.
You are sued for defamation of character.
If you participate in activities where you could be sued or liable for damage, umbrella insurance may be a good idea. It can protect you from unfortunate circumstances such as defamation, libel or slander lawsuits. The policy provides additional insurance in circumstances where a loss has depleted the amount of liability insurance offered under a homeowners policy.
Who does umbrella insurance cover?
Umbrella insurance coverage applies to you and others living in your home, including your spouse, children, or anyone in your care. Additionally, the coverage protects you worldwide wherever you may travel or reside.
How much coverage do you need?
When considering the right amount of coverage, keep in mind the value of your assets and potential future income loss. An umbrella policy should cover – at minimum – the value of your assets, as this is what you stand to lose in a lawsuit. You also need to consider your potential income and any future losses. Even if you currently have a limited income, it's important to consider your future earning potential too.
Gain Peace of Mind with Umbrella Insurance
Umbrella insurance provides peace of mind and is relatively inexpensive, especially when compared to its benefits of higher limits and broader coverage. I am here to help you understand your coverage and the best way to protect you and your assets. Fill out the form to the right and let's start a conversation.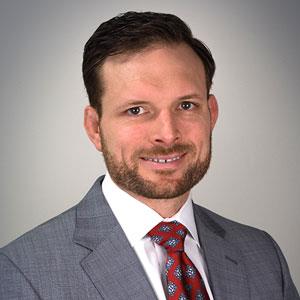 Justin Staebler
As Senior Vice President, Personal and Life Insurance, Justin is responsible for the team of advisors who provide home, auto and umbrella insurance, along with life, disability and long-term care solutions. He and his team are dedicated to helping individuals manage risk and protect what is most important to them.
LEARN MORE