A Construction Financing Partner with Harpe Development
We are here to help finance your dream home with personalized loan options.
Meeting with a mortgage loan officer and getting started with a pre-approval is one of the most important first steps you can take. A Johnson Financial Group pre-approval is a fully underwritten loan approval that includes verification of your income, credit and down payment funds. A pre-approval will determine what type of home you can realistically afford based on your current assets and existing debt. A pre-approval also provides the opportunity to ask questions about the construction process: what's involved, what you are responsible for and what to expect of the builder.
Use the checklist below to gather your documents for the pre-approval. Having this information readily available can make the process quick and easy.
Your Social Security number to obtain your credit report
Pay stubs, W-2s and possibly full tax returns for income documentation
Bank and asset statements for verification of liquid and retirement savings
Any other necessary information based on your individual situation like business tax returns, current real estate holdings, etc.
A lot loan closing statement, if you already own your lot
Additional documents and information (when available)
Accepted offer to purchase – if purchasing the lot at the time of closing on your construction loan
Construction plans
Builder cost breakdown and specs
Complete signed builder contract
Insurance coverage, including builder's risk insurance – prior to closing
Learn about the builders and contractors in your area by reviewing local builders associations, attending home builder shows, talking to vendors, reading online reviews and participating in seminars.
Ask for references from family and friends.
Ask for references of sub-contractors or suppliers the contractor works with and review their payment record. Request a copy of the contractor's insurance policy to understand the unique coverage.
Review the construction bids, including the scope of the project, references, time frames and price.
Create a detailed budget to ensure you don't overspend. Leave yourself some "financial breathing room" as new construction projects can often cost more than expected. Savings reserves are helpful should you encounter cost overages during the build process.
Make sure the lot you plan to purchase can accommodate your new home. The dimensions, pitch and location can all factor into the size and type of home you want to build. Regardless of your desired location, you'll almost always need to choose the land before you begin the design phase. In some cases, the complexity of the building site (steep terrain, remote locations, undeveloped land, etc.) may directly impact the cost of the project.
A lot loan allows you to purchase land before you start construction. Once you're ready to build, your lot loan can often be rolled into the financing of the construction loan. You may need to plan for 60 to 70 days for closing. This gives you time to review the contract and develop plans, and it will ensure you have enough time to complete an appraisal.
The construction period may take 11 months. Once approved, your home must be completed within a designated timeframe and will be financed on a schedule based up completion of each stage of building.
During construction, you'll make interest-only payments based on how much of the construction loan funds have been drawn to date.
Types of Construction Financing
There are a variety of financing options including a One-Time Close Construction Loan, Portfolio Jumbo Construction Loan, Lot Loan financing and Turn-Key Mortgage financing. Your loan officer can make recommendations and provide the best option based on your individual situation and goals.
What is a One-Time Close Construction Loan?
This is a combined construction and permanent loan financing option to save you time and money. You'll enjoy the convenience of one loan, one application and one closing date.
Interest-only payments during construction based on the funds drawn
Low down payment options
Maximum loan amount up to conforming loan guidelines of $726,200
Option to lock your rate up to 180 days prior to the final draw being made
What is a Portfolio Jumbo Construction Loan?
Our portfolio construction loans provide financing options for homeowners that have high value construction projects that exceed conforming loan amounts.
Interest-only payments during construction based on the funds drawn
Loan-to-values (LTVs) vary, with loan amounts available up to $3,000,000
Long-term fixed rates, generally up to 30 years
Adjustable-rate mortgages (ARMs) with various term options
Once the final draw is made, you may have the option to relock your rate, for a fee, should the current rate be lower
A lot loan allows you to purchase land before you start construction. Once you're ready to build, your lot loan can be financed as part of the construction loan.
Private Mortgage Insurance (PMI) is not required
Finance up to 20 acres
1-2-3 year balloon payment options with longer amortizations
In turn-key financing, the builder is responsible for the cost of construction. The homeowner finances the purchase of the new home when construction is complete and they are handed the key.
Homeowner finances the completed project with a traditional mortgage loan
Faster project, typically 4 - 6 months
Less stress and money obligations while your home is being built
Homes typically are built in subdivisions
Flexibility to lock your rate up to 180 days prior to closing for free, should the current rate be lower
Builder is responsible for the construction financing
Your Complete Guide to Construction Financing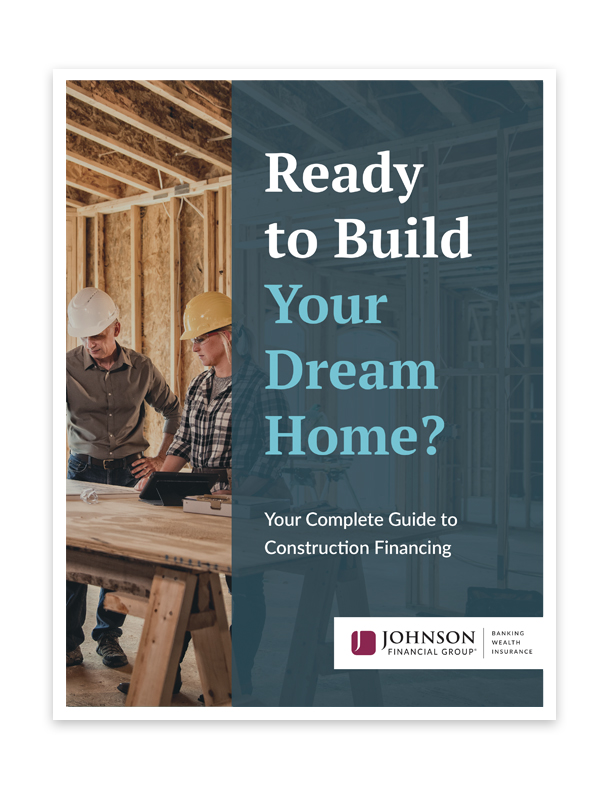 Building the home of your dreams is exciting. The thought of creating a new space designed to your exact specifications – from the size of the rooms to the color of the walls – is thrilling. Yet, just as a solid foundation is important to any well-constructed house, financing is a critical component of the construction process.
In this guide you will learn about:
building a new home vs. buying a new home
documents and information you need for construction financing
tips for building your home
how to select a builder
types of construction financing
DOWNLOAD WHITEPAPER
How One-Time Close Construction Loans Work
Meet Your Kenosha Johnson Financial Group Partners
Meet Your Racine Johnson Financial Group Partners
Loans are subject to credit and property approval, bank underwriting guidelines, and may not be available in all states. Other loan programs and pricing may be available. Certain conditions, terms, and restrictions may apply based on the loan program selected. The term of the loan may vary based upon program chosen. Property insurance is required; if the collateral is determined to be in an area having special flood hazards, flood insurance will be required.