2022 Annual Report:
Position of Strength
- Jim Popp, President and CEO
A Message From Our CEO
The Hangover
After challenging years in 2020 and 2021, we had high hopes that 2022 might be a bit less stressful for all of us. The worst of the pandemic was behind us, markets had recovered nicely, and businesses, communities, stores, and restaurants were slowly reopening. It felt like things were finally getting back to "normal."
How wrong we were! As the year unfolded, the mixture of rising interest rates, rampant inflation, contentious politics, and a host of other issues combined to make 2022 feel a little like the hangover that just wouldn't go away.
While rising rates and market volatility led to softer-than-planned results in our mortgage and wealth businesses, both businesses were able to manage the disruption and deliver solid overall performance for the company. Meanwhile, in the core banking business, rising rates drove a more balanced positioning of loan and deposit rates, and ultimately, strong growth in both our loan and deposit balances across the company. Finally, our insurance business continued its steady, consistent level of customer engagement and was a notable contributor to the diversified revenue mix of our company.
In the end, I am pleased to share that Johnson Financial group was able to put together another strong year serving our customers, associates and communities in Wisconsin and Minnesota.
Financial Performance
As we move forward in 2023, we remain optimistic about the ongoing recovery taking place in our economy. And while it's hard to predict the next "shock" to our system, we are confident in the way we have positioned our company to meet your needs now and into the future.
Our balance sheet is stable, diversified, and well-positioned to allow us to capitalize on future opportunities. Strength & Stability | Johnson Financial Group
JFG's overall capital and Tier I Capital Ratio remain well in excess of regulatory standards for well-capitalized banks.
We continue to invest in people, products, processes, and technology that will allow us to deliver the best possible experience for our customers and associates.
As always, we remain committed to the communities we serve, with $2 million in annual giving budgeted in 2023.
In closing, I offer my gratitude to all who allow our company to serve the people and businesses in our area. To our customers, we thank you for your partnership and the trust you place in us. To our associates and trusted partners, we thank you for all you do to make JFG great every day. And finally, to those who don't know us yet, we look forward to learning your story and earning the right to serve you.
With gratitude,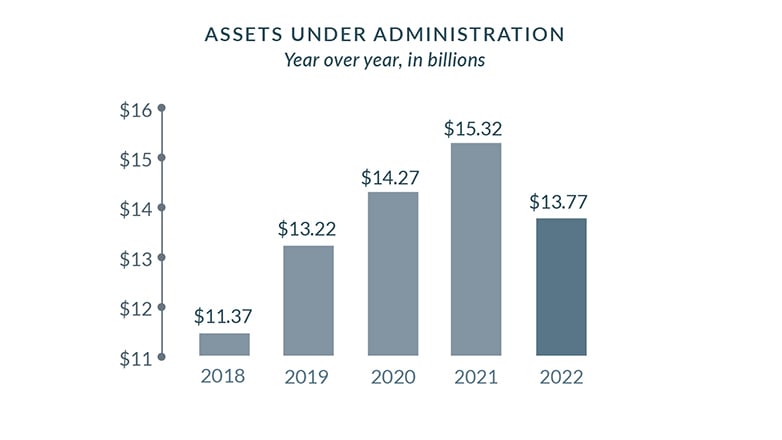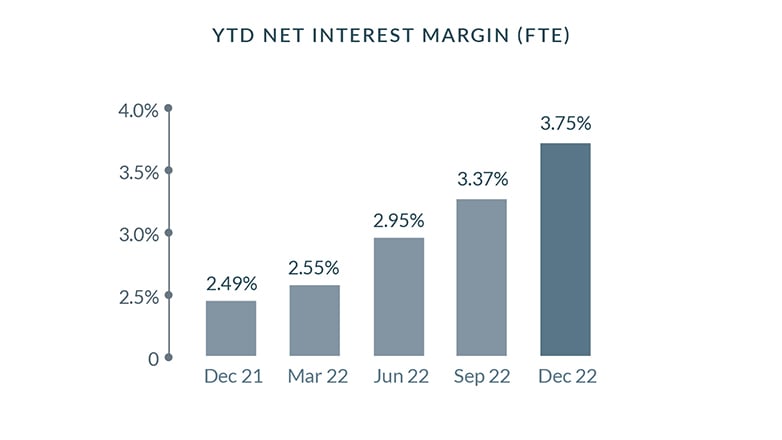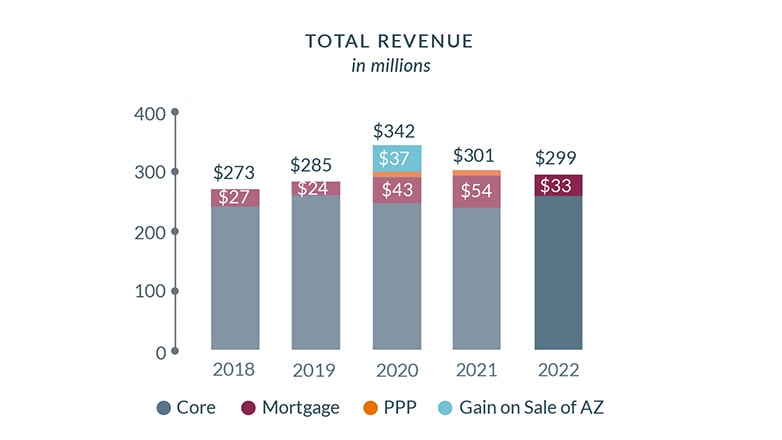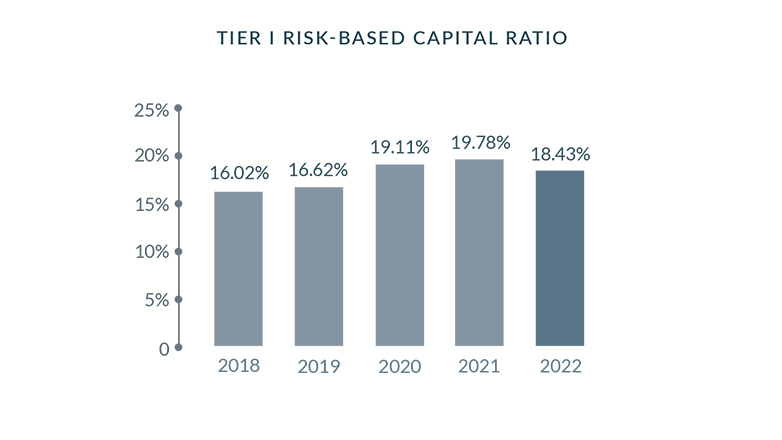 Commercial and Consumer Banking
We continue to invest in business transformation through technology, including our new integrated payables solution to help commercial businesses streamline their accounts payables process, while maintaining security and increasing cash flow.
Additionally, by delivering on financing needs to community organizations, our business and commercial banking partnershps are creating a positive community impact through projects affiliated with these organizations:

Core Commercial Banking continued to grow in 2022, up 7% from 2021. In Milwaukee, these loans are up nearly 20% because Milwaukee continues to be a great place for thriving businesses that share our common values.

We recognize the financial needs of business and commercial clients deserve a sharper focus and dedicated teams to help them grow and manage their business. Our small business team delivers a highly responsive, personalized approach and remains committed to local decision-making to help businesses and their owners achieve their goals.
Our mortgage team built multiple loan programs and special rates to serve almost anyone looking to buy or build a home. Recently, we've added a Hero Home Loan Rate Discount to thank individuals who serve our communities. We also strengthened our Doctor and Professional loan programs in addition to offering special rates and discounts to individuals who want to have a full relationship with JFG. We've fostered stronger connections with our clients through programs like our statewide partnership with Habitat for Humanity to service mortgages free of charge.
Additionally, we've introduced the Bank On Certified Digital Checking account with over 20 safe and affordable features. We are proud to join the Bank On movement expanding affordable banking services to the underbanked communities across Wisconsin.
In 2022, we continued to invest in digital solutions to best serve our clients and make their lives easier. My Credit Score and Report provides our 40,000+ MyJFG clients with anytime, anywhere access to their credit score, real time credit alerts and educational tips on financial wellness and managing credit. The new MyJFG Home Loan portal enabled individuals applying for a home loan to securely upload mortgage documents, quickly sign disclosures and easily access their home loan information.
Wealth
JFG's wealth team remains focused on enhancing the customer experience, producing educational resources, and developing our talented team of associates. In addition to an ongoing transition to a new and improved digital solution, our advisors have also published an abundance of content to help our clients stay up to date on the latest economic news, market trends and financial planning tips. We continue to prioritize training opportunities for our talented team of associates to stay knowledgeable on industry changes, emerging investment products and the economy to help our clients grow and protect their wealth.
View several of our thought leadership pieces from 2022:
Personal and Commercial Insurance
Our insurance teams continued to provide a steady, stable source of fee revenue by servicing clients with customized personal insurance and business risk management and employee benefit solutions. We produced a variety of educational resources, including articles, whitepapers and webinars, to help individual and business clients stay apprised of the latest insurance and benefit topics.
View several of our thought leadership pieces below.
Empowering Associates
Building upon our culture of diversity, equity, and inclusion, we hosted our inaugural Employee Resource Group (ERG) Summit for associates in November. Nearly 100 ERG members – along with members of JFG's Executive Leadership Team – gathered to engage, imagine, and strategize ways to impact both our company and the community as agents of change.
We also added a sixth ERG – Championing our Next Gen – to foster a diverse and inclusive work environment for early career professionals.
For the fourth year in a row, JFG was recognized as a Top Workplace in the U.S.

Making Every Community Better
#everycommunitybetter
Maintaining our commitment to strong communities, JFG donated over $2 million to deserving community partners in 2022. In an effort to continue making a meaningful impact where we live and work, we launched a Neighborhood Giving Campaign, where associates gave to charities of their choice right in our branch neighborhoods. We proudly provided an additional $62,000 in support of local housing, food security and other nearby community organizations.
JFG associates echoed our culture of giving, by pledging more than $200k in our annual United Way Workplace Campaign where we continue to match contributions dollar for dollar. We remain focused on our three pillars for giving -- the Arts, Financial Literacy and Community Welfare.
We're continuously working to improve our customer and associate experience. You'll see us adding new locations, like Delafield, and working differently in other locations as we adapt to the ever-changing evolution of the financial services industry.
We are – and will always be – a face-to-face business, while working to continually evolve so we can connect with our clients where they are -- whether in person or digitally. We'll deliver a new bank origination and servicing platform that will modernize the end-toend experience of originating and servicing loans, deposits and treasury management.
We talk a lot about providing an experience that is simple, safe, competent and personal. If we can do that, we have a great chance of delighting our customers and developing lasting relationships.
JFG was built on the idea of making life better for the people, companies and communities we serve. This means being a great place to work; delivering an exceptional customer experience; and being laser-focused on engaging in the communities we serve. We're looking forward to making a difference in Delafield this fall and expanding our branch network.