This is part of an ongoing series of articles published by Johnson Financial Group. This issue is written by Brian Andrew, EVP Wealth and Chief Investment Officer.
Last week, the U.S. targeted and killed a general of the Iranian Republican Guard who was responsible for providing leadership to many terrorist militias in the Middle East. Iran responded yesterday by launching missiles at two U.S. airbases inside Iraq. The implications for U.S. troops in harm's way are clear, and we hope for an end to the conflict that threatens them. For investors, the picture remains opaque. However, understanding the dramatic change in our energy independence can aid in the calculus.
Oil Production
In September, 2019, the U.S. posted its first trade surplus in crude oil and petroleum products in many decades! U.S. crude oil production was above 12 million barrels of oil per day (bpd) while imports from OPEC were only 1.5 million bpd.
The benefits of shale oil production and development of natural gas energy infrastructure have led to a level of energy independence in the U.S. that most certainly will change how we view our entanglement in the Middle East. The change has likely been more dramatic and over a shorter period of time than the defense and political infrastructure can manage. As the chart here shows, oil production has doubled inside of a decade!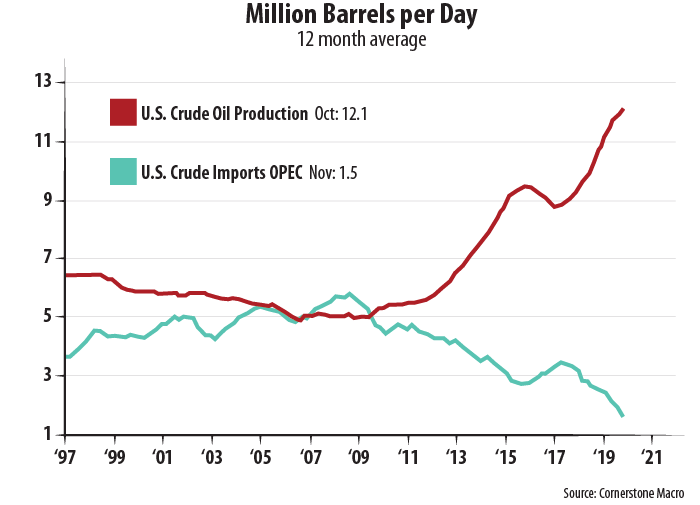 While there are security concerns surrounding tensions in the Middle East and we have allies who don't benefit from the same energy independence, over time, this alteration in our dependence on foreign oil will have an impact on long-term fiscal policy and asset prices.
Oil Prices
Here is a chart showing the daily price movement of West Texas Intermediate oil over the last week.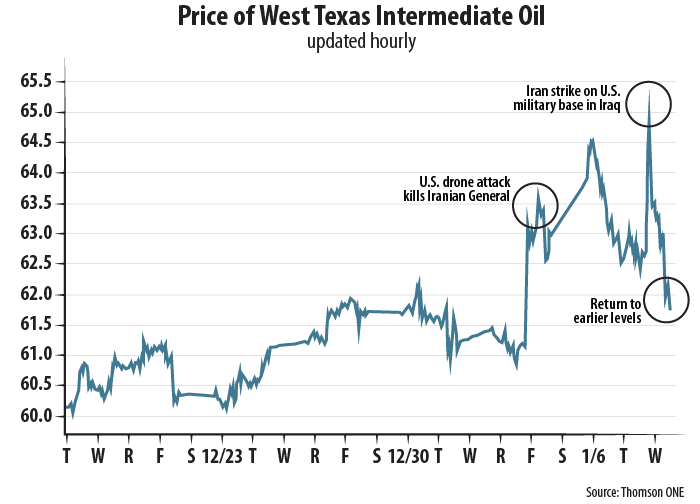 You can see that there was a slight move higher; however, the market has taken the turmoil in stride. This is likely a function of time. The outcome from this increase in tension between the U.S. and Iran hasn't fully played out. Some believe Iran's response was measured and that it indicates a desire to de-escalate. Only time will tell.
Certainly, those allies of the U.S. who are not energy independent and more reliant on OPEC will be looking for a stable oil price and more measured responses on both sides of the conflict.
Inflation and Economic Growth
While the outcome from this increasing conflict between the U.S. and Iran is not nearly over, it is interesting to note the muted reaction to oil prices. One has to think that some of this is a function of our own energy independence. To the extent that prices remain relatively stable, that suggests that an increase in inflation from more expensive energy is not in the cards this year. Certainly any escalation might change our thinking.
We came into 2020 believing that core inflation will remain at or near the Fed's 2% target, and that means no change in monetary policy (level of short-term interest rates). We will have to see how the economic data plays out during the first quarter and will continue to watch for signs of a stronger growth story. Still, if growth moves higher, we believe it will be relatively muted and isn't likely to change the outlook for inflation and interest rates.
Our energy independence changes our stature on the global stage. Understanding this impact on foreign, fiscal and monetary policy is part of our job as we make portfolio decisions on behalf of our clients. So while tensions may escalate from time to time, we have to keep in mind that our relationship with OPEC and in the Middle East will change due to our development of resources at home.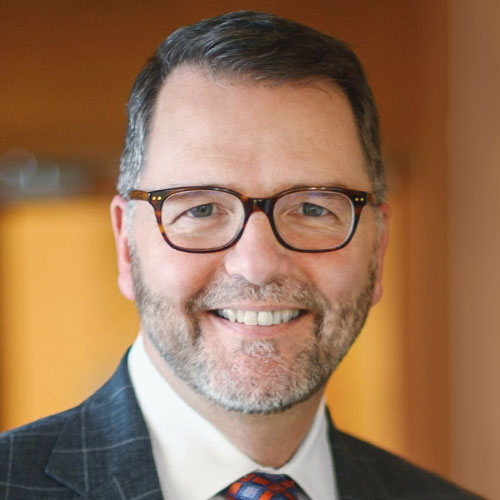 by Brian Andrew
As Chief Investment Officer, Brian Andrew leads Johnson Financial Group's investment strategy to provide consistent, actionable investment solutions for our clients.
READ MORE

about Brian Andrew.
This information is for educational and illustrative purposes only and should not be used or construed as financial advice, an offer to sell, a solicitation, an offer to buy or a recommendation for any security. Opinions expressed herein are as of the date of this report and do not necessarily represent the views of Johnson Financial Group and/or its affiliates. Johnson Financial Group and/or its affiliates may issue reports or have opinions that are inconsistent with this report. Johnson Financial Group and/or its affiliates do not warrant the accuracy or completeness of information contained herein. Such information is subject to change without notice and is not intended to influence your investment decisions. Johnson Financial Group and/or its affiliates do not provide legal or tax advice to clients. You should review your particular circumstances with your independent legal and tax advisors. Whether any planned tax result is realized by you depends on the specific facts of your own situation at the time your taxes are prepared. Past performance is no guarantee of future results. All performance data, while deemed obtained from reliable sources, are not guaranteed for accuracy. Not for use as a primary basis of investment decisions. Not to be construed to meet the needs of any particular investor. Asset allocation and diversification do not assure or guarantee better performance and cannot eliminate the risk of investment losses. Certain investments, like real estate, equity investments and fixed income securities, carry a certain degree of risk and may not be suitable for all investors. An investor could lose all or a substantial amount of his or her investment. Johnson Financial Group is the parent company of Johnson Bank, Johnson Wealth Inc. and Johnson Insurance Services LLC. NOT FDIC INSURED * NO BANK GUARANTEE * MAY LOSE VALUE