Webster's defines recovery as "overcoming a deficiency or shortcoming" while recovering is defined as "a return to a normal state." This may be an interesting differentiation as we think about the economy's current and future states as influenced by the pandemic.
A "return" to normal would suggest that things were indeed normal pre-pandemic. There was little normal, however, about this combination:
An unemployment rate below 4%
An economy that refused to grow much faster than 2% each year for the last decade.
An interest rate environment that saw the 10-year Treasury yield trading near 2% with an inflation rate that refused to come up to the Federal Reserve's 2% target for years. (More on that in next week's piece.)
What we're seeing and continue to hope for is a recovery—in the sense of "overcoming a deficiency or shortcoming"—from the economic damage caused by the pandemic's global closings. And on that score, we're seeing improvement in the economic data suggesting, that a recovery is beginning to happen.
German Data Points to Global Recovery
Germany is Europe's largest economy and the most reliant on exports. To the extent that Germany is seeing a recovery in economic activity, and manufacturing in particular, then we know the global economy is beginning to heal.
China is Germany's third-largest trading partner, with over $107 billion of trade in 2019. (The U.S. is Germany's largest, with almost $133 billion last year). Because China is experiencing a vigorous recovery, as discussed in last week's presentation, it is providing an engine of growth for Europe's exporters as well as much of Asia.
This may be why Germany's Chancellor, Angela Merkel, was a vocal proponent of the $800-plus billion stimulus package passed by the European Union last week. All in, the stimulus plans passed by central banks and governments around the globe total almost 30% of global GDP.
The chart below provides some insight into Germany's recovery and is good evidence of the global economic recovery despite the resurgence in COVID-19 cases.
The green line presents Germany's manufacturing purchasing managers index (PMI), an index of activity within the industry. A number above 50 represents expansion. As you can see, the index bottomed earlier this year near 35, a meaningful contraction in activity due to the pandemic.
The dotted line shows export orders are above 50—so expanding, partly due to that China recovery mentioned earlier.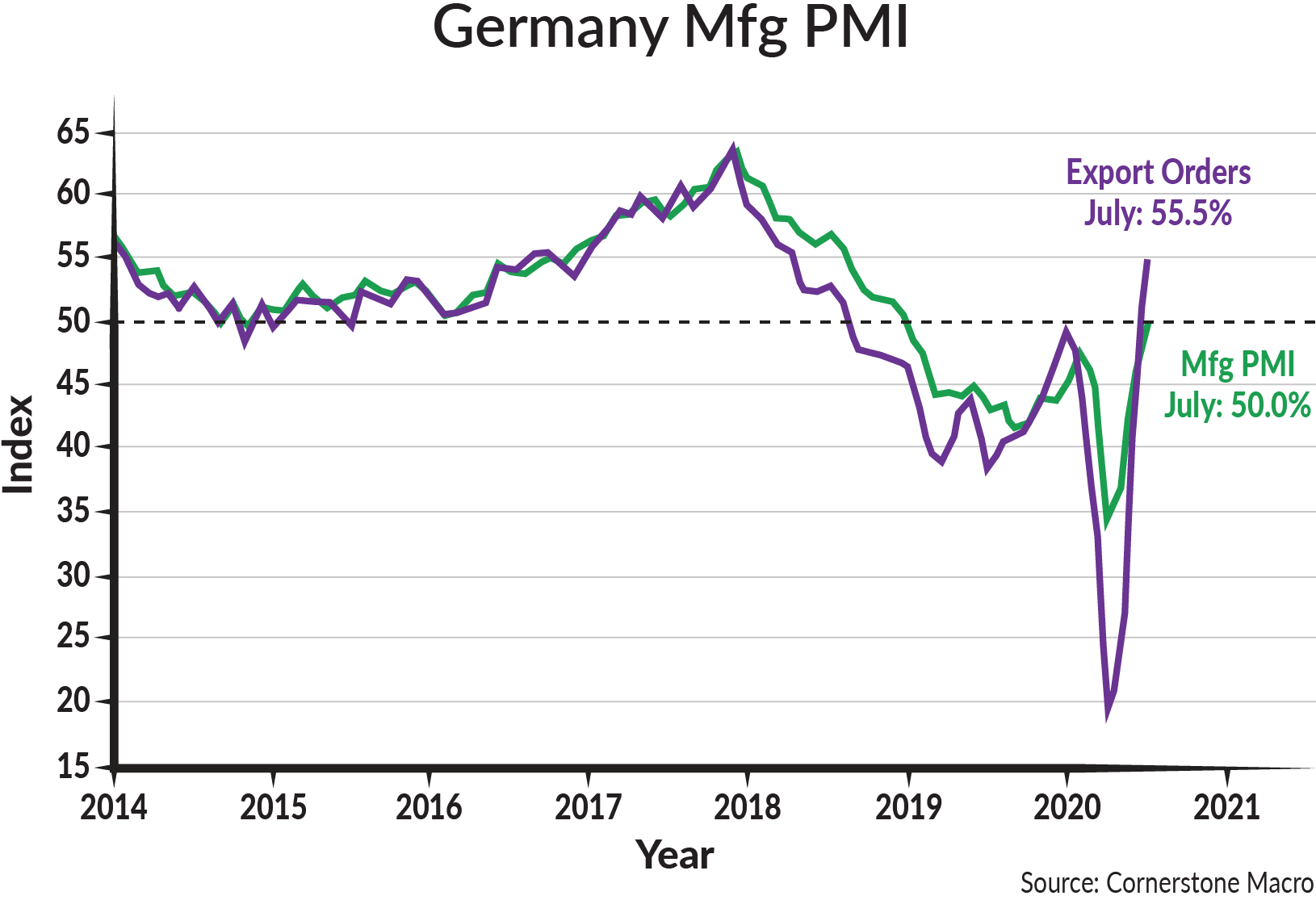 What About Here at Home?
This week, orders for U.S. durable goods were reported 7.3% higher than the prior month. That represents almost $207 billion of activity, which is well below the $240 billion average run rate pre-pandemic—but well above the low of about $165 billion earlier this year.
Durable goods represent those items that have a longer useful life and larger expense. Examples include transportation equipment such as planes and locomotives, as well as consumer goods such as computer equipment, cars and furniture.
Improvement in this data suggests that businesses and consumers are beginning to feel more confident about the economic recovery. The chart reflects the strength of the recovery and the reason some may refer to it as "V-shaped."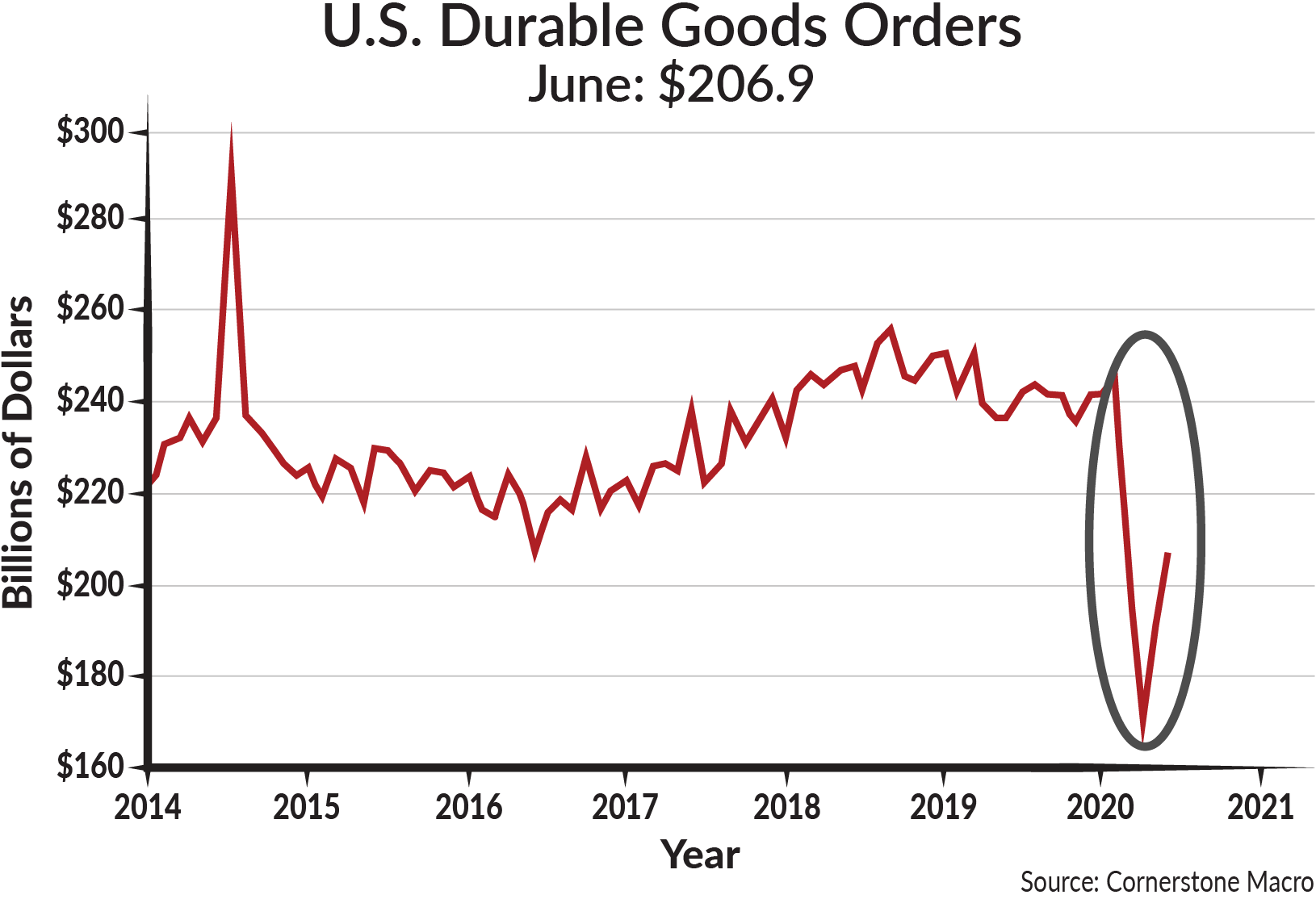 However, we are not saying the recovery will be steadily higher. We don't think you can expect a V-shaped recovery of durable goods orders to persist. It is likely that we'll continue to see mixed results from the economic data, including durable goods, over time. We do not, however, expect nationwide or global re-closing similar to what we experienced in March and April. Closings and other retrenchment are more likely to be regional and rolling, leading to uneven recovery data.
A recovery is what's beginning. Recovering will likely take much more time and may power the latter half of this decade…but returning to the pre-pandemic "normal"—which wasn't actually the least bit normal—won't come any time soon.
This information is for educational and illustrative purposes only and should not be used or construed as financial advice, an offer to sell, a solicitation, an offer to buy or a recommendation for any security. Opinions expressed herein are as of the date of this report and do not necessarily represent the views of Johnson Financial Group and/or its affiliates. Johnson Financial Group and/or its affiliates may issue reports or have opinions that are inconsistent with this report. Johnson Financial Group and/or its affiliates do not warrant the accuracy or completeness of information contained herein. Such information is subject to change without notice and is not intended to influence your investment decisions. Johnson Financial Group and/or its affiliates do not provide legal or tax advice to clients. You should review your particular circumstances with your independent legal and tax advisors. Whether any planned tax result is realized by you depends on the specific facts of your own situation at the time your taxes are prepared. Past performance is no guarantee of future results. All performance data, while deemed obtained from reliable sources, are not guaranteed for accuracy. Not for use as a primary basis of investment decisions. Not to be construed to meet the needs of any particular investor. Asset allocation and diversification do not assure or guarantee better performance and cannot eliminate the risk of investment losses. Certain investments, like real estate, equity investments and fixed income securities, carry a certain degree of risk and may not be suitable for all investors. An investor could lose all or a substantial amount of his or her investment. Johnson Financial Group is the parent company of Johnson Bank, Johnson Wealth Inc. and Johnson Insurance Services LLC. NOT FDIC INSURED * NO BANK GUARANTEE * MAY LOSE VALUE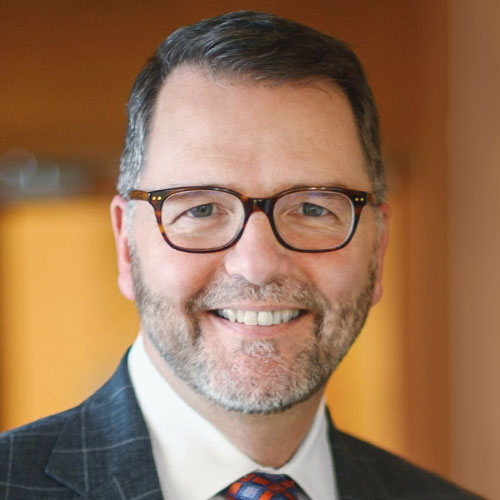 by Brian Andrew
As Chief Investment Officer, Brian Andrew leads Johnson Financial Group's investment strategy to provide consistent, actionable investment solutions for our clients.
READ MORE

about Brian Andrew.