Scientific information regarding the pandemic changes daily because there are thousands of scientists working to understand this specific coronavirus—how it affects our health, how to treat it and how to develop a vaccine.
As a result, we are asked to synthesize all this information to make decisions that affect our businesses, social interactions and, most importantly, our families' health. To that end, we have all begun to learn more about statistics, such as rates of infection and morbidity and the number of available ICU beds and ventilators.
At this point, what we know for sure is uncertainty remains and will continue. In that context, we must make our decisions.
As investors, we're a data-driven group. We're not expert virologists, immunologists or pulmonary specialists. We are, however, familiar with relying on the research firms we work with to provide us the detail that helps us make more informed decisions.
We know there are many ways to measure the effects of the pandemic on the economy. Here, we have a deep understanding and have developed a framework to better understand the probable outcomes.
Focus on Industries
We've seen an unprecedented increase in unemployment. Much of this increase is focused on specific industries most affected by "stay at home" (SAH) orders in place across much of the country. The travel, leisure and hospitality industries employ nearly half of the people working in small businesses and about 20% of total employment in the U.S. These 30+ million people represent the majority of those who are now unemployed or furloughed.
Understanding the scale and impact of these industries on the economy helps put the economic downturn in some perspective. For example, knowing that some 19% of our economy is comprised of these industries helps us measure the potential detriment to the economy and put the potential effect of a prolonged SAH period in context.
We also know that about 10% of the earnings of the S&P 500 stock index is generated by these industries. This will help us measure the overall impact on earnings and the market's valuation of the stocks.
Of course, we understand that there are many businesses affected by the pandemic. We know that global trade and growth is impacted, and that just as the world had a rolling closure across the globe, the opening, too, will be rolling.
Fortunately, to measure the pandemic's effect in real-time, there are some metrics we can follow because they are updated daily, weekly and monthly—whereas most economic data is typically updated on a monthly basis.
What's Happening In Real Time
One example of daily-available data is box office receipts. We're used to learning how a movie's opening weekend performed relative to the competition. Watching these receipts as we reopen the economy will provide some insight into consumer behavior, willingness to spend on entertainment and whether their weeks of streaming has changed the desire to go to the theater.
Weekly retail sales are also available. The detail surrounding this data includes gas sales, which provides insight into how quickly consumers are returning to their normal routines and how this could impact the demand-driven price in the energy industry. Of course, this data is parsed between online and brick and mortar sales. It will be interesting to see if the move to online accelerates the macro-trend we've seen over the last several years as everyone becomes more confident in having many of their home goods delivered. We've noted, as an example, that many auto manufacturers have increased incentives and marketed home delivery.
Hotel occupancy is another frequent measure. This daily and weekly data will provide real-time information about how quickly businesses are reopening, allowing for travel and sales activity. Many industries are dependent upon face-to-face sales efforts, and this metric allows a measure of the return to that activity as well as, over time, whether or not behaviors have changed. Insights here can be coupled with TSA Checkpoint data, which is available daily. As an example, April 15 of 2019 saw over 2.5 million people move through checkpoints while in 2020 it was 91,000! Monitoring this data together will provide some evidence of how rapidly we "re-open."
Jobless claims is a weekly data series that provide information regarding how many people have filed for unemployment. The total number of claims in the last four weeks is now up to 26.4 million as of April 23, 2020. But as people return to work, we would expect this to decline. How dramatically that happens will provide some information about how personal income recovers and may drive consumption.
Among monthly data streams, we'll also keep an eye on the savings rate. We may see a more conservative consumer. However, while a higher savings rate removes spending from the economy, it may add cash flow into the securities markets.
There are many others we'll also be watching, including steel production, OpenTable reservations and Airbnb reservations. These online services are a great way of measuring consumer behavior in real time.
Data Guides Decision-Making
Why do we care about all of these metrics? As investors we need to be data driven. The data assists us in removing some of the emotion in our decision-making, hopefully resulting in better outcomes. Ultimately, economic activity drives corporate revenue and earnings growth. The return to a healthy economy means a more positive outlook for companies overall and results in asset price improvement. The pace at which this happens will be easier to determine—and to determine sooner—thanks to real-time data.
This information is for educational and illustrative purposes only and should not be used or construed as financial advice, an offer to sell, a solicitation, an offer to buy or a recommendation for any security. Opinions expressed herein are as of the date of this report and do not necessarily represent the views of Johnson Financial Group and/or its affiliates. Johnson Financial Group and/or its affiliates may issue reports or have opinions that are inconsistent with this report. Johnson Financial Group and/or its affiliates do not warrant the accuracy or completeness of information contained herein. Such information is subject to change without notice and is not intended to influence your investment decisions. Johnson Financial Group and/or its affiliates do not provide legal or tax advice to clients. You should review your particular circumstances with your independent legal and tax advisors. Whether any planned tax result is realized by you depends on the specific facts of your own situation at the time your taxes are prepared. Past performance is no guarantee of future results. All performance data, while deemed obtained from reliable sources, are not guaranteed for accuracy. Not for use as a primary basis of investment decisions. Not to be construed to meet the needs of any particular investor. Asset allocation and diversification do not assure or guarantee better performance and cannot eliminate the risk of investment losses. Certain investments, like real estate, equity investments and fixed income securities, carry a certain degree of risk and may not be suitable for all investors. An investor could lose all or a substantial amount of his or her investment. Johnson Financial Group is the parent company of Johnson Bank, Johnson Wealth Inc. and Johnson Insurance Services LLC. NOT FDIC INSURED * NO BANK GUARANTEE * MAY LOSE VALUE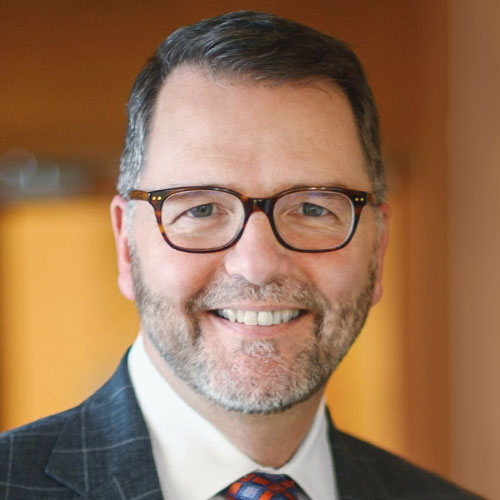 by Brian Andrew
As Chief Investment Officer, Brian Andrew leads Johnson Financial Group's investment strategy to provide consistent, actionable investment solutions for our clients.
READ MORE

about Brian Andrew.