This is part of an ongoing series of articles published by Johnson Financial Group. This issue is written by Brian Andrew, EVP Wealth and Chief Investment Officer.
In a recent conversation about fly fishing, one of my colleagues described the space between the fish and a well‐presented fly as the interstice between the fish's world and ours. At that moment, the fish is close to seeing a new world for the first time, which must seem very strange. The fisherman can place himself in that small space between air and water and imagine how unusual the fish must feel as his own heart rate rises with the excitement of the catch. So it is with the small space in which stock investors view their positions today.
They seem to have placed themselves in that gap between the hope for better trade and monetary policy and the reality of corporate revenue/earnings growth. Investors have determined that stocks are worth almost 20% more than they were at the beginning of the year. However, just like the fisherman whose hope rises upon seeing the fish, the catch (promise of higher returns) is not a sure thing.
Monetary Policy
The second quarter brought a sea change in bond investor sentiment. As a result of the Federal Reserve's shift toward an easier monetary policy (i.e., lowering rather than raising short‐term interest rates), the yield on bonds declined substantially. The yield on a 2‐year Treasury, a good proxy for the federal funds rate two years out, fell to 1.75%. This yield was 3% in October of last year, when investors believed that the Fed would raise rates this year.
Intermediate bonds returned over 5% for the first six months of the year due to this decline in interest rates. While we don't expect that to annualize, we do believe that bond yields could slide further, raising prices a bit more. While we believe that corporate cash balances, profit margins and balance sheets are still favorable, we look for opportunities with every bond rally to improve the average credit quality of our bond portfolios.
Most importantly, we believe that an intermediate‐term benign environment for interest rates remains our base case. Lower interest rates will continue to be part of our investing reality. When the Fed telegraphed to investors that it was becoming concerned about hiking rates further, it noted trade tensions dampening economic growth and the lack of inflation as reasons to reconsider future moves. Today, the market believes that there is almost a 100% chance rates will decline when the Fed meets this month.
This focus on the Fed isn't healthy. However, it belies the environment in which we live. Understanding that lower interest rates can mean a higher valuation for stocks, therefore, has to be part of how we think about our allocation to them. For now, we'll remain neutral to our target investment because, as we've noted, interest rates aren't likely to head higher in the near future.
Trade Policy
With every word from the administration's treasury secretary or chief trade negotiator regarding progress on trade talks with China, we see a change in stock prices. We acknowledge the negative impact on economic growth that tariffs may have; however, we believe those currently in place would leave growth reverting to the trend growth rate of the last decade, near 2%, rather than derailing it altogether.
There's one caveat. If the Trump administration is determined to play hardball with China and move tariffs to 25% on all goods and services related to trade with that country, a recession would seem more imminent.
This doesn't seem likely. While they are willing to make life difficult for the Chinese, and perhaps rightfully so, it wouldn't be likely that they would use trade policy to force our economy into recession. Perhaps this is why President Trump is so adamant about getting some help from the Fed and routinely lambasts their lack of interest rate cuts.
One side benefit of the market's perception of easier monetary policy is that the dollar has become more stable in value, thus improving the lot for emerging market economies and providing China additional room to reduce interest rates to offset the detrimental effect of our trade tariffs.
While we don't expect a meaningful trade deal, we see the potential for a détente (if I can use a Cold War word) that would reduce risk and lift stock prices.
Earnings Season
In a few days, the second quarter corporate earnings season will begin and companies will report how they performed during the last three months. Expectations are muted, although there is some anticipation that reports will provide evidence of a stable environment going forward. We believe that the quarter's reports will be weak and markets may overreact, providing an opportunity for investment.
That's because we think the slowdown we're experiencing looks more like a mid‐cycle slowdown than a decline in growth leading to an all‐out recession. More importantly, while we remain in the interstice referred to earlier, policy moves outweigh earnings over the next twelve months and favor our neutral stance toward stocks.
Having said that, we believe the time is right to rebalance investments to your target allocation! With stocks enjoying a six‐month return near 20% and bonds near 5% or better, it is certain that targets have been exceeded. This rebalancing moves portfolio assets back to where they should be, better reflecting our view.
While not a sure thing, we believe that as long as investors focus on policy more than earnings, riskier investments are favored. As noted, the gap between policy and corporate earnings is small, so we'll be mindful of any hint of a change in investor sentiment.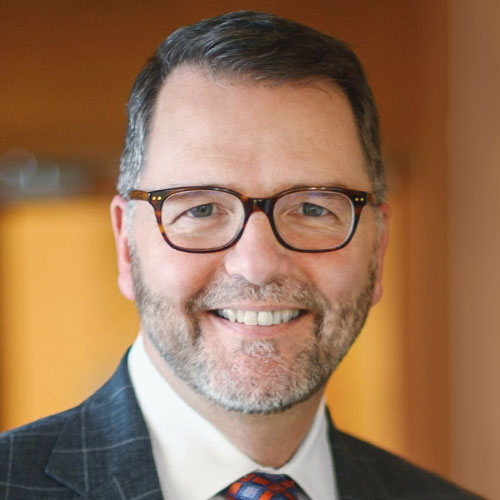 by Brian Andrew
As Chief Investment Officer, Brian Andrew leads Johnson Financial Group's investment strategy to provide consistent, actionable investment solutions for our clients.
READ MORE

about Brian Andrew.
This information is for educational and illustrative purposes only and should not be used or construed as financial advice, an offer to sell, a solicitation, an offer to buy or a recommendation for any security. Opinions expressed herein are as of the date of this report and do not necessarily represent the views of Johnson Financial Group and/or its affiliates. Johnson Financial Group and/or its affiliates may issue reports or have opinions that are inconsistent with this report. Johnson Financial Group and/or its affiliates do not warrant the accuracy or completeness of information contained herein. Such information is subject to change without notice and is not intended to influence your investment decisions. Johnson Financial Group and/or its affiliates do not provide legal or tax advice to clients. You should review your particular circumstances with your independent legal and tax advisors. Whether any planned tax result is realized by you depends on the specific facts of your own situation at the time your taxes are prepared. Past performance is no guarantee of future results. All performance data, while deemed obtained from reliable sources, are not guaranteed for accuracy. Not for use as a primary basis of investment decisions. Not to be construed to meet the needs of any particular investor. Asset allocation and diversification do not assure or guarantee better performance and cannot eliminate the risk of investment losses. Certain investments, like real estate, equity investments and fixed income securities, carry a certain degree of risk and may not be suitable for all investors. An investor could lose all or a substantial amount of his or her investment. Johnson Financial Group is the parent company of Johnson Bank, Johnson Wealth Inc. and Johnson Insurance Services LLC. NOT FDIC INSURED * NO BANK GUARANTEE * MAY LOSE VALUE