In several notes and questions from clients, we have heard concerns over the growing national debt, accelerating as a result of the federal government's response to the pandemic. Many point out that current debt, as a percent of gross domestic product (GDP), is now at a level unseen since the post-World War II era (see chart below).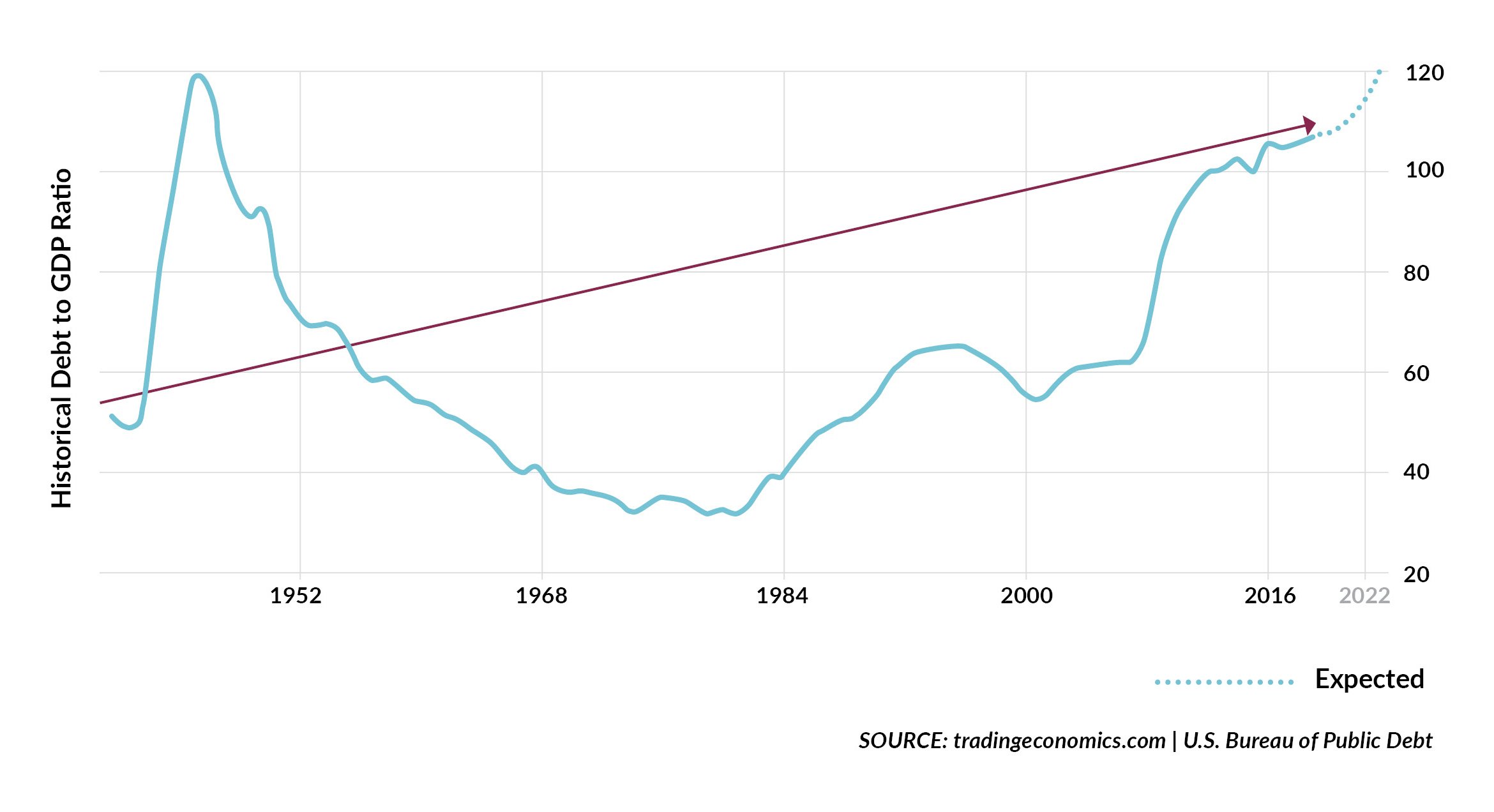 Many wonder if this level of debt is sustainable, what its impact on interest rates will be and if we'll ever see a slowdown in its growth. Still others have commented that this looks a lot like Japan's economy in the early 1990s, and Japan's annual growth rate has averaged less than two percent for decades. Finally, some want to know if we'll ever return to the robust economy we were used to in the '90s.
Where are we now?
Last year, the federal deficit was near $1 trillion for the first time. Due to recent programs like the CARES Act, which are meant to assist those who've lost jobs due to the pandemic, this year's deficit will be near $4 trillion and next year estimated to be another $2.1 trillion. Those figures could go even higher as additional laws are passed.
The U.S. economy was projected to total nearly $21 trillion in 2020 before the pandemic hit. To put this in perspective, the last time we saw debt-to-GDP at this level, 1945, the economy was only $228 billion! Additionally, it is possible that we'll see a decline of roughly $2 trillion in the size of our economy due to the pandemic.
The stimulus packages passed since March are meant to plug the income and revenue gap for individuals and corporations due to the pandemic. Late last week, we saw that personal income was actually up 11% in April, due to CARES Act payments. However, much of that money wasn't spent on consumer items, as we saw consumption decline by 13%. As businesses and the economy continue to reopen, we'll watch the pace of activity to see how quickly the economy recovers.
Federal spending will reach $7.7 trillion versus last year's $4.45 trillion. Seventy-five percent of federal spending is made up by health care (22%), pensions (19%), education (17%), defense (11%) and welfare (6%). The government's total deficit by the end of this fiscal year will likely be greater than the size of the economy.
So, Now What?
If we look at the post-World War II era for clues as to how the government paid down the debt, it was a combination of policy and economic growth. The post-war baby boom led to the suburbanization of America and a consumption fueled economic growth expansion. For much of the 1950s, real economic growth was between four and six percent—more than two times the growth rate of the last decade. During the 1960s, the rate was between four and five percent.
As shown in the chart above, the debt-to-GDP ratio shrank to less than 40% by the early 1980s. A higher economic growth rate, due to the baby boom and technology inspired innovation, led to higher tax receipts and a reduction in the deficit.
We've often referred to the millennial generation as a force as big as boomers. The reason is in the numbers. There are over 70 million of them, just as there were over 70 million boomers. They are still under 30 years old, on average, and we expect they will form families and produce consumption on the same order as their predecessors. It will most certainly be different industries that benefit, but that's a different discussion.
The fact that millennials have come of age during the financial crisis of 2008-09 and now are living through the pandemic driven recession suggests that they might be better savers than their boomer counterparts. After all, millennials' great-grandparents, who grew up during the depression, became savers by virtue of their experiences. Savers by nature are investors, and that leads to demand for both equity and debt investments as their income and wealth grow.
Of course, this is a long-term trend that will take another two decades to play out. However, it is dramatically different than Japan.
Japan's Woes
Japan has been stuck with little economic growth or inflation for the last thirty years. As a result, the country has built up a massive amount of debt, putting its debt-to-GDP ratio at more than 200%. This number has grown substantially as Japan has responded to the pandemic in much the same fashion as the U.S.—only bigger. While our stimulus has amounted to just over 44% of GDP, Japan's has equaled over 60%.
Certainly, the government's debt restricts growth; however, Japan's biggest problem is its aging population, nationalistic tendencies and low birth rate. There simply is no "next generation" as there is in the U.S. This creates two problems. The aging workforce means that over time the size of the workforce shrinks. Economies need productivity and workforce growth to grow at all. In addition, the consumer base shrinks, making Japan more reliant on trade with the rest of Asia to create economic growth. As a result, competition from China, Indonesia, Vietnam and other Asian countries inhibits Japan's ability to grow. The U.S. has neither a shrinking workforce nor a dependence upon others for growth.
Policy Response
Finally, in order for the U.S. deficit to shrink, we need the increase in tax revenues brought on by future millennial-driven growth, combined with a shift in fiscal policy. And here is the rub. To date, neither political party can claim that it's been fiscally conservative. The deficit has grown under both Republican and Democratic-led administrations and Congresses. It may require a change in leadership and approach to policy.
Here again, the future is certainly going to change. Our leaders in the White House and Congress are in their mid-70s. They will almost certainly be replaced by non-baby boomers beginning in 2024. Because the younger generations have lived through the financial crisis and now the pandemic recession, they may be interested in returning their political party or parties to an era of fiscal conservatism, which would allow these voters to take advantage of the growing tax revenues that occur when the economic growth rate moves back to the levels seen in the 1950s or 1990s.
The current level of federal debt creates uncertainty for investors. However, there are forces in play that have the ability to create greater economic growth which will most certainly produce higher tax revenues for the federal government. We may also see policy changes as we move forward that return the government's expenses to a more reasonable level.
This information is for educational and illustrative purposes only and should not be used or construed as financial advice, an offer to sell, a solicitation, an offer to buy or a recommendation for any security. Opinions expressed herein are as of the date of this report and do not necessarily represent the views of Johnson Financial Group and/or its affiliates. Johnson Financial Group and/or its affiliates may issue reports or have opinions that are inconsistent with this report. Johnson Financial Group and/or its affiliates do not warrant the accuracy or completeness of information contained herein. Such information is subject to change without notice and is not intended to influence your investment decisions. Johnson Financial Group and/or its affiliates do not provide legal or tax advice to clients. You should review your particular circumstances with your independent legal and tax advisors. Whether any planned tax result is realized by you depends on the specific facts of your own situation at the time your taxes are prepared. Past performance is no guarantee of future results. All performance data, while deemed obtained from reliable sources, are not guaranteed for accuracy. Not for use as a primary basis of investment decisions. Not to be construed to meet the needs of any particular investor. Asset allocation and diversification do not assure or guarantee better performance and cannot eliminate the risk of investment losses. Certain investments, like real estate, equity investments and fixed income securities, carry a certain degree of risk and may not be suitable for all investors. An investor could lose all or a substantial amount of his or her investment. Johnson Financial Group is the parent company of Johnson Bank, Johnson Wealth Inc. and Johnson Insurance Services LLC. NOT FDIC INSURED * NO BANK GUARANTEE * MAY LOSE VALUE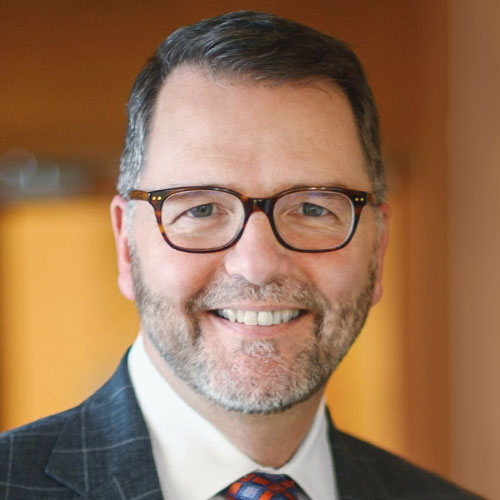 by Brian Andrew
As Chief Investment Officer, Brian Andrew leads Johnson Financial Group's investment strategy to provide consistent, actionable investment solutions for our clients.
READ MORE

about Brian Andrew.