Investment Commentary
Energy, Inflation, and Supply, Oh My!
4 minute read time
Third quarter corporate earnings season is well underway. Last week, we saw stocks return their biggest weekly gains in months after a strong streak of earnings reports particularly from banks and healthcare companies. These advances were due to better than expected earnings and stronger economic data such as a positive surprise in retail sales. The recent volatility within the equity markets, however, has been attributable to concerns over supply chain issues and increases in energy prices which may continue to fuel inflationary pressures and slower global growth. These headwinds will likely have an impact on earnings in the short-term, but we are seeing signs that they are temporary and are beginning to fade.
What is going on with the energy markets?
Energy prices have rallied since last year with much of the gain coming within the past few months. In the oil markets, Hurricane Ida has temporarily set back U.S. supply while some OPEC+ members including Angola and Nigeria have struggled to increase their supply. Last week, we saw crude oil prices reach multi-year highs to above $80. Within the natural gas markets, extreme weather is to blame for boosting demand and for causing outages at plants. The increase in energy prices appear to be episodic and will ease over the longer term. OPEC+ plans to phase out the oil quotas set in 2020 by late next year while the recent increase in prices will likely incentivize more U.S. production. In the short term, energy pricing shocks will have an effect on consumer purchasing power and consumer confidence, as well especially with lower income earners.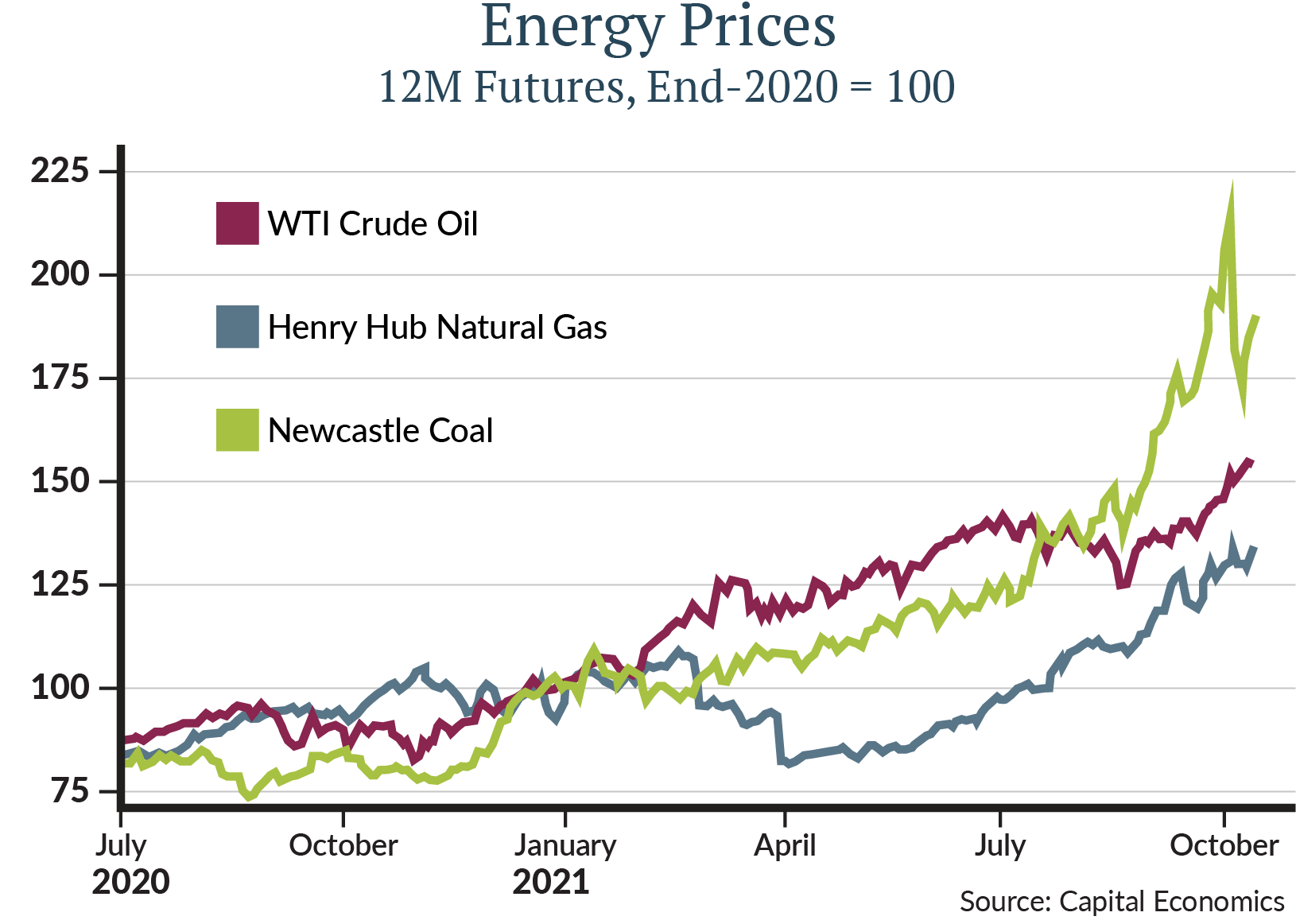 Supply Chain Issues
Last week, it was announced that the Los Angeles and Long Beach ports which are the point of entry for 40% of containers to the U.S. will begin operating 24 hours a day and companies like UPS, FedEx, and Walmart are increasing work hours to clear bottlenecks in the supply chain. Still, it takes more than 75 days for products to get from Asian manufacturers to U.S. retailers which puts goods that have not yet left China arriving after Christmas. There are signs that these bottlenecks are beginning to fade. We have begun to see a drop in the number of container ships waiting at ports, and the average cost of a shipping container from China to the US has dropped 22% since late September highs. Labor shortages also remain a hurdle to many industries, however, we are beginning to see improvements as COVID cases decline, moratoriums end, school openings help alleviate child care conflicts, and job openings increase especially heading in to the holiday season.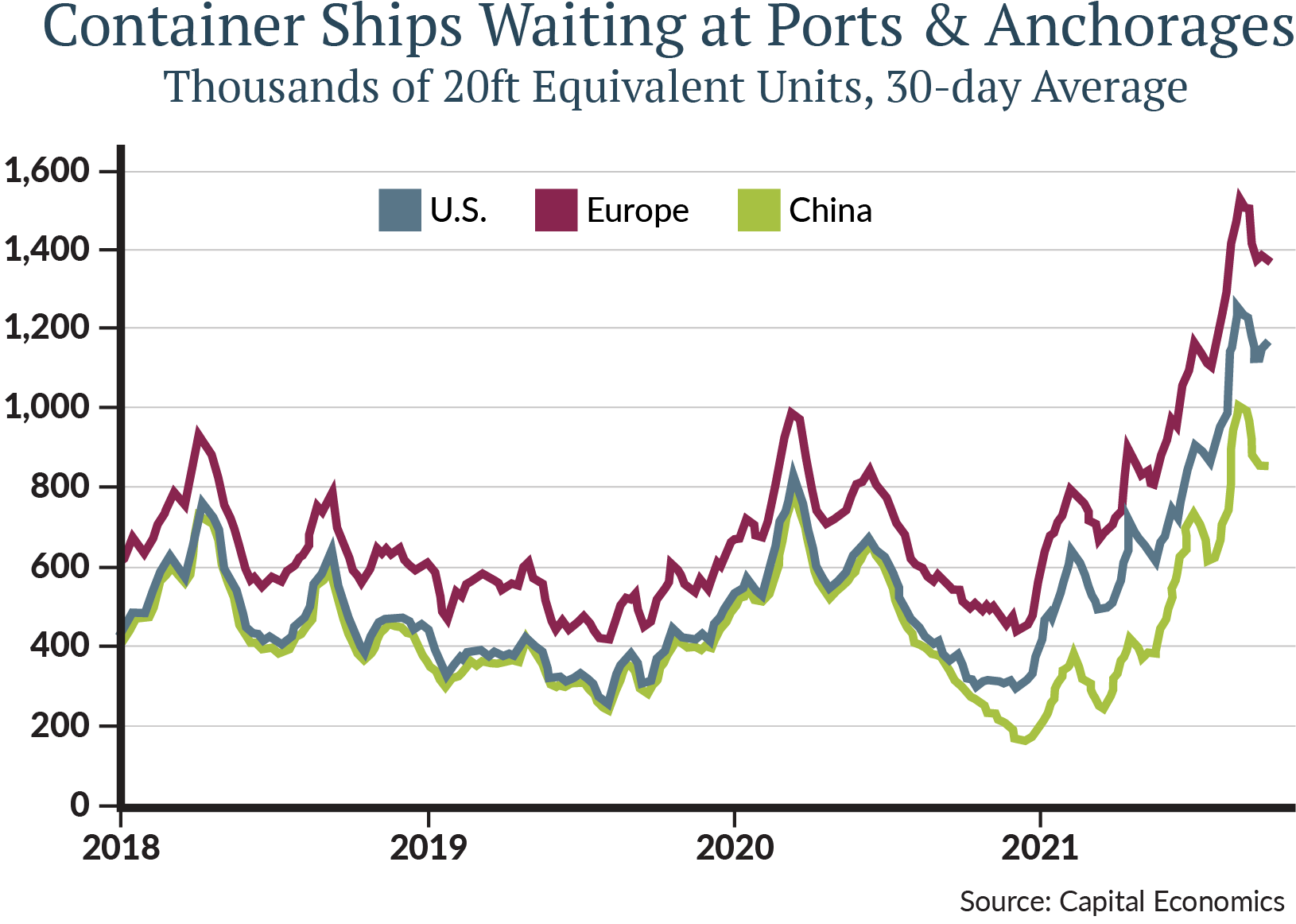 Portfolio Positioning
In portfolios, we seek to express our belief that global growth will continue despite some headwinds and that inflation expectations remain high for another few months before moderating over the next year. In our equity sleeve, we believe that equities continue to have a supportive backdrop with continued earnings surprises and accommodative monetary and fiscal policy. In a recent commentary by Brian Andrew, he explains that price increases will be easier to pass along since demand is so high, which will continue to support earnings over the next 12 to 18 months.
Within the equity markets, we have seen a recent rotation from growth to value and cyclicals. This is an indicator that that increasing interest rates rather than concerns on the underlying economy is the biggest driver of the recent 5% sell-off at the end of September. Volatility in the equity markets is normal and is a natural part of the economic recovery. We will understand more about fundamentals as companies continue to report earnings in the coming weeks. This upcoming holiday season, we will also be watching consumer spending, particularly around Black Friday as an indicator to overall consumer health. Despite the headwinds and volatility, we expect economic growth to remain strong and inflationary pressures to subside as bottlenecks and energy prices ease.
This information is for educational and illustrative purposes only and should not be used or construed as financial advice, an offer to sell, a solicitation, an offer to buy or a recommendation for any security or investment. All information presented is considered accurate at the time of publication but no warranty of accuracy is given and no liability with respect to any error or omission is accepted. Charts and graphs, in and of themselves, should not be used as a basis for investment decisions. Past performance is not a guarantee of future results.
Complementary investments introduce risks that are different from more traditional investments and may require certain investor qualifications. These risks include more speculative strategies that may increase volatility and the risk of investment loss, illiquidity, lack of pricing or valuation information, complex tax structures and delays in distributing important tax information. Additionally, complementary investments often have more complex and higher fee structures than traditional investments. Higher fees reduce investor returns.
Johnson Financial Group is the parent company and brand name for its subsidiaries, Johnson Bank, Johnson Wealth Inc., and Johnson Insurance Services, LLC. Additional information about Johnson Wealth Inc., a registered investment adviser, and its investment adviser representatives is available at https://www.adviserinfo.sec.gov/. Johnson Financial Group and its subsidiaries do not provide legal or tax advice.