Investment Commentary
Do Munis Still Make Sense?
4 minute read time
2021 was a great year for equity investors but a bit of a dud for bond holders. Most stock indices rose double digits while high quality bonds were flat to slightly negative. The wide performance gap between the two asset classes means that many investors' long-term asset allocation will have shifted to a more aggressive mix.
Rebalancing risk
Part of the discipline we bring as advisors is rebalancing portfolios to reestablish appropriate risk-taking.
Five-year Treasuries are about 1.2% higher than they were this time last year, and yields are 0.30 to 0.35 percentage points higher across the yield curve in just the last few weeks, making rebalancing more rewarding for investors in tax-deferred accounts.
This year, investors in taxable accounts should review their individual tax situation before rebalancing. High earners often choose to invest in tax-exempt municipal bonds, focusing on munis' higher after-tax yields. But circumstances change, and what may have made sense five years ago may not make sense today.
A closer look at munis
Investors poured a record $104.7 billion into municipal bond funds in 2021, driven by improving credit fundamentals, favorable demographic trends, and anticipation of higher tax rates. But tax increases have not materialized, and unrelenting demand has pushed tax-exempt yields down relative to taxable bonds. As a result, tax-exempt municipal bonds make sense for fewer investors.
One way professional investors evaluate tax-exempt bonds relative to taxable bonds is to compare AAA-rated municipal yields to U.S. Treasury yields.
If, for example, a 10-year tax-exempt municipal bond yields 1.50% and a 10-year Treasury bond yields 2.00%, we would say that the municipal bond yields 75% (1.50%/2.00%) of Treasuries.
Historically, ratios above the 100% threshold are indicative of value given the tax advantage of municipals, while ratios below the 80% threshold are indicative of more richly valued municipals.
Today that ratio is about 65%, near all-time lows (Figure 1). That means that an investor must be in the 35% tax bracket or higher to justify purchasing the tax-exempt bond rather than the Treasury. Ratios for short-term bonds are even lower.
Subscribe to Our Investment Commentary
We deliver unbiased guidance that's not in our best interest – it's in yours. Subscribe and receive our investment commentary straight to your inbox.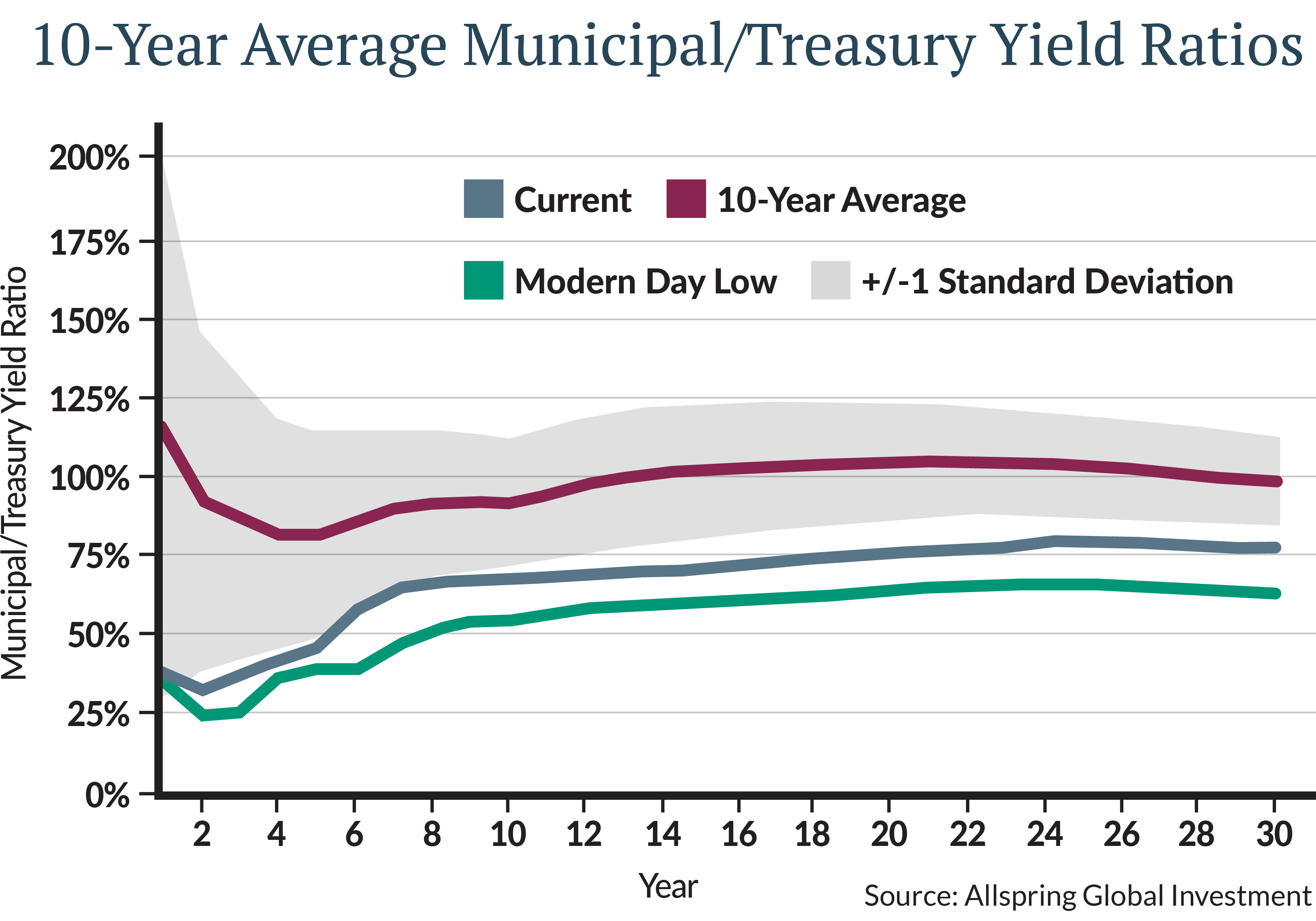 Another way to evaluate tax exempt bonds is to compare their after-tax yield to similarly rated corporate bonds. As of December 31, investors in the 21% corporate tax bracket would have sacrificed over 0.50% in after-tax yield by investing in A or AA-rated tax-exempt bonds (Figure 2) rather than comparably rated corporate bonds.
One of the lasting effects of the Tax Cuts and Jobs Act of 2017 was to make tax-exempt municipal bonds far less attractive to corporations. But today, even individual investors must be in the very highest tax brackets to prefer tax exempts to corporates.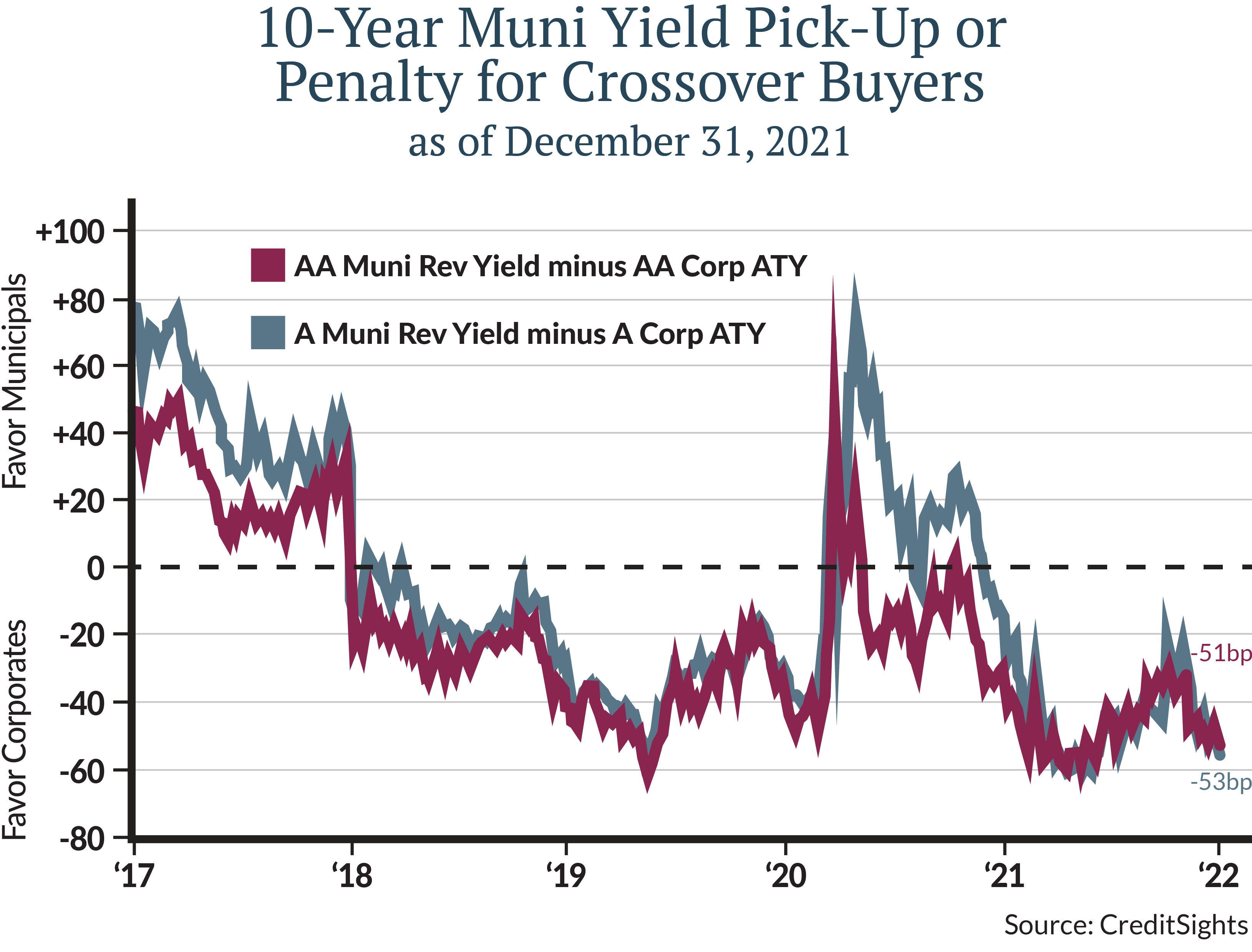 Supply and demand and seasonal factors can lead to swift repricing in the municipal bond market. Today's rich valuations are unlikely to last once supply catches up to demand. There is also no guarantee that proposed tax hikes won't materialize later this year. After massive fiscal stimulus over the past two years, municipal credit fundamentals are as strong as they have been since before the financial crisis. Municipal bonds can still be a pillar of stability in balanced portfolios - if they are bought at the right price.
We don't recommend trying to time the municipal bond market, but if your tax situation has changed in recent years, now may be a good time to meet with your advisor and determine if tax-exempt municipal bonds still make sense for you.
This information is for educational and illustrative purposes only and should not be used or construed as financial advice, an offer to sell, a solicitation, an offer to buy or a recommendation for any security. Opinions expressed herein are as of the date of this report and do not necessarily represent the views of Johnson Financial Group and/or its affiliates. Johnson Financial Group and/or its affiliates may issue reports or have opinions that are inconsistent with this report. Johnson Financial Group and/or its affiliates do not warrant the accuracy or completeness of information contained herein. Such information is subject to change without notice and is not intended to influence your investment decisions. Johnson Financial Group and/or its affiliates do not provide legal or tax advice to clients. You should review your particular circumstances with your independent legal and tax advisors. Whether any planned tax result is realized by you depends on the specific facts of your own situation at the time your taxes are prepared. Past performance is no guarantee of future results. All performance data, while deemed obtained from reliable sources, are not guaranteed for accuracy. Not for use as a primary basis of investment decisions. Not to be construed to meet the needs of any particular investor. Asset allocation and diversification do not assure or guarantee better performance and cannot eliminate the risk of investment losses. Certain investments, like real estate, equity investments and fixed income securities, carry a certain degree of risk and may not be suitable for all investors. An investor could lose all or a substantial amount of his or her investment. Johnson Financial Group is the parent company of Johnson Bank, Johnson Wealth Inc. and Johnson Insurance Services LLC. NOT FDIC INSURED * NO BANK GUARANTEE * MAY LOSE VALUE