Investment Commentary
Bonds Are Doing Their Job
4 minute read time
It may not feel like it, but bonds are doing their job. In this time of turmoil, U.S. Treasuries and high-quality municipal bonds remain a haven. Although nearly all bond indices are down year-to-date, they are providing important diversification benefits. Even emerging market bonds, which have taken a beating this year, are doing their job in the sense that they represent attractive value at current spreads.
Higher Yields Stalled in Flight to Quality
You could be forgiven for being a bond bear. Nearly all bond indices are in the red this year as investors anticipate the Federal Reserve to make five to seven 0.25% rate hikes in 2022.
Continued strong employment data and persistent inflation have only firmed the Fed's resolve to raise rates. In the wake of January's 7.5% annualized CPI print, Fed Chairman Jerome Powell told the House Financial Services Committee, "This is strong, high inflation, and it's very important that we get on top of it, and that's exactly what we're going to do."
Two-year Treasury yields, which closely track Fed interest-rate policy, have risen from 0.74% at year-end to about 1.65% today. Bond prices fall as rates rise, leaving even short-term bond holders with negative returns.
Ten-year Treasury yields reflect investors' expectations for longer-term economic growth and inflation. After peaking at 2.05% mid-month, the 10-year Treasury ended February at 1.83%. The catalyst to this reversal in yields was largely a flight to quality in response to Russia's invasion of Ukraine. The invasion brought with it not only geopolitical uncertainty but also higher oil prices, which tend to drag on economic growth as consumers are forced to pull back on other forms of spending.
Investors have been lowering 2022 growth forecasts considering these developments, and the narrowing spread between the two-year Treasury yield and the 10-year Treasury yield suggests investors don't believe the Fed can raise rates aggressively without substantially curtailing economic growth. We'll be watching this relationship closely for clues to the resilience of the recovery and the path of interest rates.
Subscribe to Our Investment Commentary
We deliver unbiased guidance that's not in our best interest – it's in yours. Subscribe and receive our investment commentary straight to your inbox.
Municipals Reprice
Municipal bonds' improving credit fundamentals and historically low default rates make them a timely haven from geopolitical stress.
In January we noted that tax-exempt municipal bond valuations were quite expensive by historical standards, but we also advised against timing the market as muni market dynamics can change quickly.
Change they have. In a reversal of last year's massive inflows, municipal bond funds have seen outflows of nearly $12 billion this year. More importantly, valuations have cheapened.
Ten-year AAA municipal bonds now yield over 90% of similar-maturity Treasuries, up from 65% in January. For an investor in the 35% marginal tax bracket that translates into a taxable equivalent yield of about 2.5% for the very highest quality municipal bonds. A-rated munis yield about 0.50% more.
Tax season is often a period of relative weakness in the muni market as investors raise cash to pay Uncle Sam. Investors with extra cash on hand might consider taking advantage of current valuations and favorable supply/demand dynamics.
EM Struggles
Treasuries and high-quality municipal bonds act as anchors to a fixed-income portfolio and ballast for a balanced portfolio of stocks and bonds. Emerging market (EM) bonds add yield and diversification to a bond portfolio but are susceptible to bouts of volatility, which is what we have seen this year.
The JP Morgan Emerging Markets Bond Index has fallen over 10% so far this year. Russian and Ukrainian bonds were a small part of the index to begin the year but no longer trade actively and have had an outsized impact on returns.
The long-term thesis for owning emerging markets bonds has been a multi-year trend of improving credit quality within a rapidly growing area of the global fixed income market. The sector's higher volatility comes with higher yields that, over time, have rewarded investors with attractive risk-adjusted returns.
The uncertainty introduced by Russia's invasion of Ukraine has forced investors to demand more compensation for owning emerging market bonds, where political risk is greater than in developed markets. As 2022 began, EM bond investors demanded a yield about 3.7% above U.S. Treasury bonds. Today, they are demanding over 5% above Treasuries.
We believe that EM bonds represent significant value compared to other bond sectors, with a yield spread well above the 15-year average depicted in the accompanying chart.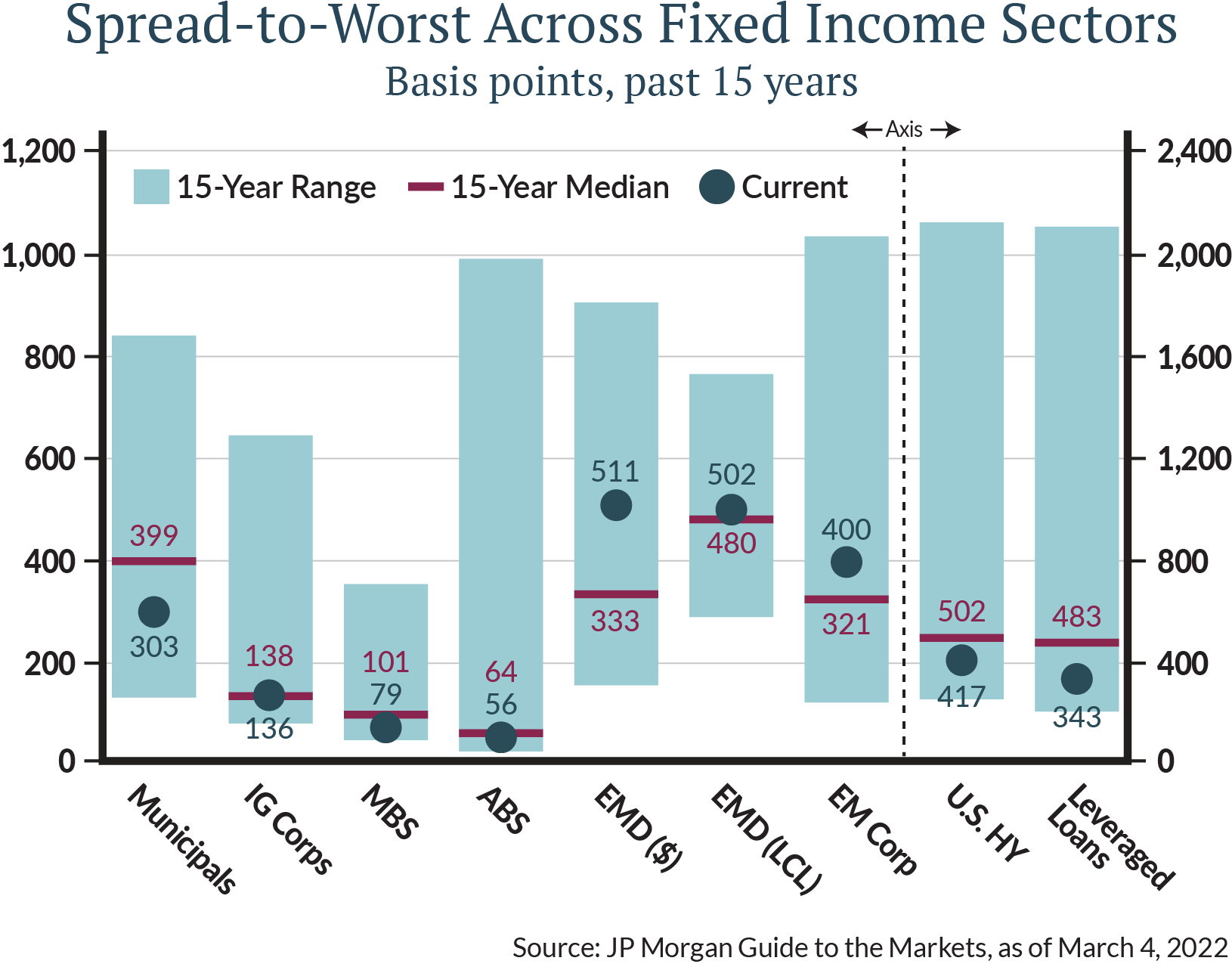 Looking Forward
Rising rates, inflation, and geopolitical uncertainty have made for a challenging first quarter. Bond investors should take some comfort in the relative stability of their fixed-income portfolios, however, and remember that interest income and funds generated by maturing bonds are being invested at much higher rates than a year ago. When the economic tide turns, today's bond bears may turn into bulls.
This information is for educational and illustrative purposes only and should not be used or construed as financial advice, an offer to sell, a solicitation, an offer to buy or a recommendation for any security. Opinions expressed herein are as of the date of this report and do not necessarily represent the views of Johnson Financial Group and/or its affiliates. Johnson Financial Group and/or its affiliates may issue reports or have opinions that are inconsistent with this report. Johnson Financial Group and/or its affiliates do not warrant the accuracy or completeness of information contained herein. Such information is subject to change without notice and is not intended to influence your investment decisions. Johnson Financial Group and/or its affiliates do not provide legal or tax advice to clients. You should review your particular circumstances with your independent legal and tax advisors. Whether any planned tax result is realized by you depends on the specific facts of your own situation at the time your taxes are prepared. Past performance is no guarantee of future results. All performance data, while deemed obtained from reliable sources, are not guaranteed for accuracy. Not for use as a primary basis of investment decisions. Not to be construed to meet the needs of any particular investor. Asset allocation and diversification do not assure or guarantee better performance and cannot eliminate the risk of investment losses. Certain investments, like real estate, equity investments and fixed income securities, carry a certain degree of risk and may not be suitable for all investors. An investor could lose all or a substantial amount of his or her investment. Johnson Financial Group is the parent company of Johnson Bank, Johnson Wealth Inc. and Johnson Insurance Services LLC. NOT FDIC INSURED * NO BANK GUARANTEE * MAY LOSE VALUE