Pleasant Prairie company gets boost from Paycheck Protection Program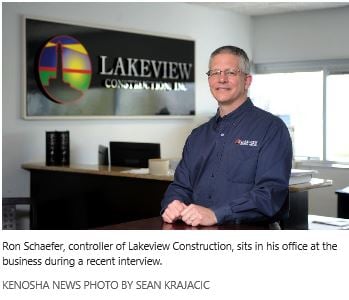 Ron Schaefer hoped COVID-19 would not take a toll on Lakeview Construction, which has been in business for 27 years.
Schaefer knew the business at 10505 Corporate Dr., in Pleasant Prairie has an obligation to clients and its 83 employees.
Some of the employees have been there since the company started. Lakeview employs project managers, estimators, managers, construction superintendents and administrative staff.
"Working in a small business is like family," Schaefer said last week.
While keeping the employees working, retaining them was equally important. We did not want to lose them to competitors or other types of companies.
"We have some who have been with us for 25 years or more. It's very difficult to find quality people right now," he said.
The coronavirus pandemic had temporarily shuttered many businesses in Kenosha County, throughout Wisconsin and in other states where Lakeview had projects.
"We'll have 20 to 50 projects ongoing simultaneously," he said.
Lakeview constructs restaurants and stores throughout Canada and the U.S., including Hawaii, Alaska and Puerto Rico.
Schaefer applied for and received a Paycheck Protection Program loan that is coordinated by federally-chartered lenders and administered by the Small Business Administration.
When the first round of loans was announced, Schaefer, who has an accounting background and serves as his company's controller, knew he had to get his application in quickly.
Schaefer did not disclose the amount, but credits the company's bank, Johnson Financial Group, and its staff for their hard work and teamwork in securing the loan.
Under a formula, recipients must use 75%, or the equivalent of 2.5 months of their average yearly payroll, of the loan to pay employees. The remainder can be used to cover mortgage, rent, utilities and other expenses.
Though it is identified as a loan, the Wisconsin Bankers Association notes that it is a forgivable loan, and the hope is that companies will not have to pay it back.
The WBA has reported that some 44,000 Wisconsin companies received $8.3 billion in the first round of disbursements. Meanwhile, financial institutions are working with their customers on the second round of loans.
For Schaefer, the Paycheck Protection Program loan was a significant financial boost.
"It's hard to quantify how much we may have lost without it," he said. "Johnson Bank was on the game right from the start.
"It was really important to have a partner like them."