New Johnson Financial Group Branch Planned In West Milwaukee and Delafield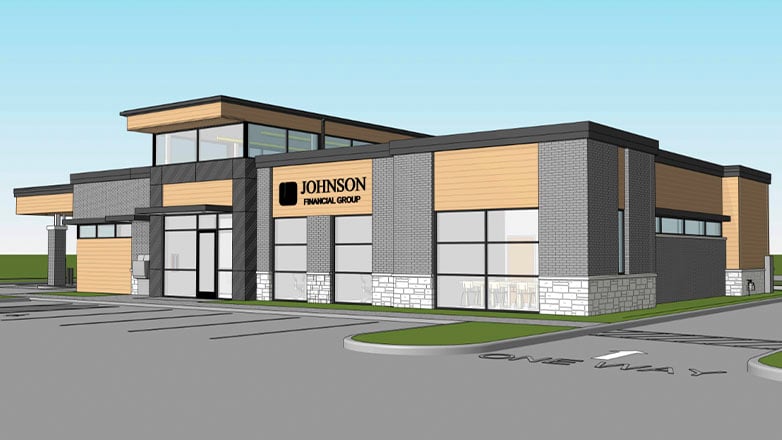 Johnson Financial Group is planning to build a 4,500-square-foot retail branch at 4319 W. National Ave. in West Milwaukee.
The proposed site – across the street from Komatsu's former headquarters – would be the bank's first full-service consumer banking branch in the Milwaukee suburb. The company currently has a mortgage loan office just a few blocks away at 1310 Miller Park Way.
The new location, explained Al Araque, senior vice president/director of consumer, private and small business banking at Johnson Financial Group, is part of the company's overall growth strategy for this year.
"We're in the process of reimagining the consumer branch experience here at JFG. You'll see us investing in our branch network through a series of refreshes, relocations, and new builds in the coming year," Araque said in an email. "Staying true to our culture, these types of investments in our branch strategy align with our fundamental priority of making communities better because we are there. Serving families, helping businesses, and contributing to the overall economic health in the areas where we live and work (are key goals)."
The new West Milwaukee branch would cost about $3 million to build, according to a conditional use permit submitted to the village, and employ about 12 people. The company is currently in the process of constructing a new branch in Delafield and updating an existing branch in Mequon as its expansion efforts.
Slated to open in the fall, the Delafield branch is located at 2675 Sun Valley Drive, southwest of Highway 83 and I-94. Located at 1555 W. Mequon Road, the new and improved Mequon branch will boast a state-of-the-art cash bar, which replace the traditional teller window to provide quicker and more convenient service, Araque said. Additionally, the updated seating area will include digital displays aimed at providing clients with information on community events, financial services, and other news. There will also be a new refreshment area with a coffee bar and an enhanced ATM.
Full details about the new West Milwaukee branch won't be available until the bank closes on the property, a spokesperson said, but the hope is to expand the services the company provides to the community by providing full banking, wealth management, and insurance services. The new location will also likely include a community center and open lobby concept with enough space to provide seating for 30-plus guests for educational and gathering purposes, the spokesperson added.
Construction is expected to begin in late summer, with an official opening planned for next spring.