First look: Johnson Financial Group's new Downtown offices and branch
Racine-based Johnson Financial Group is trading its vintage classic home in Milwaukee for a much newer, sleeker model.
The bank, which has a branch and offices at the 1867 Birchard and Follansbee Block, 333 E. Wisconsin Ave. – long home to Reckmayer Furs – will consolidate its Milwaukee offices on the top two floors of the Cathedral Place building at 555 E. Wells St.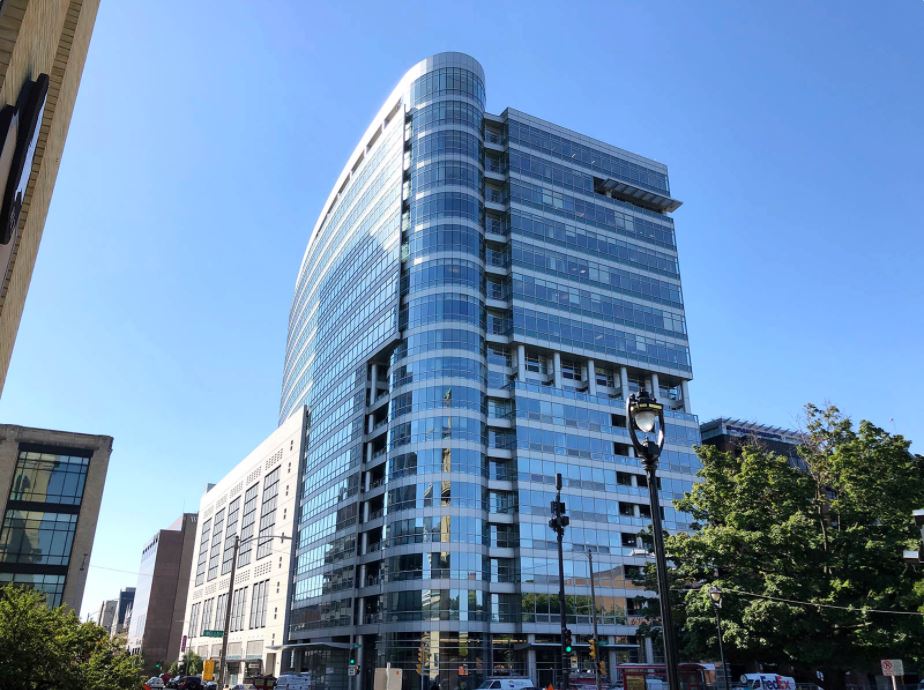 Cathedral Place It will also move its branch to the main floor of that gleaming glass and steel tower, which was built in 2004.
The branch is small, with two teller windows, a waiting area, a beverage station, a 24-hour ATM, self-service coin counting machine and small meeting rooms.
It's the branch of the future according to Johnson CEO Jim Popp.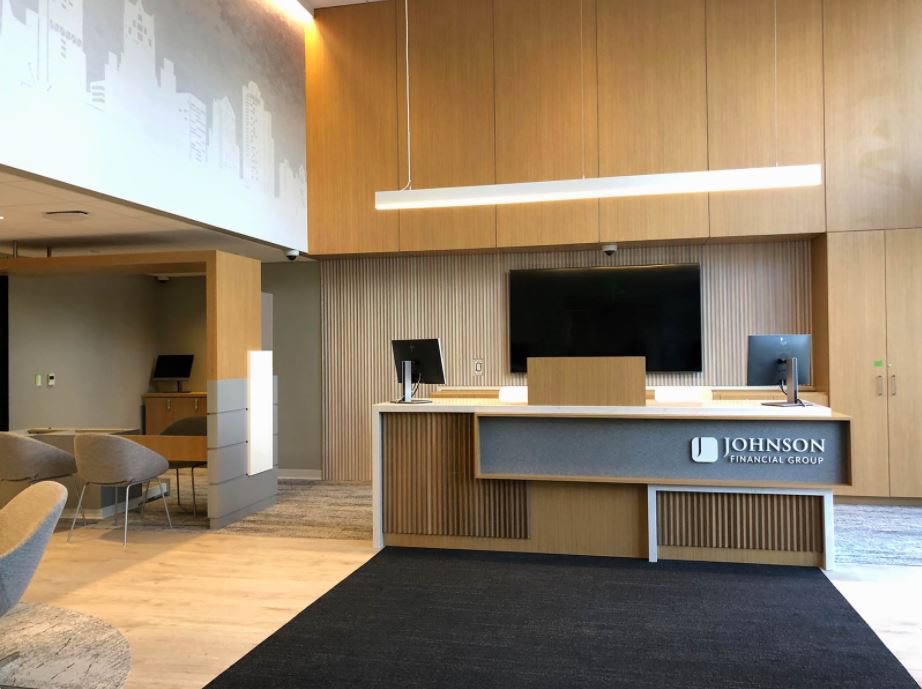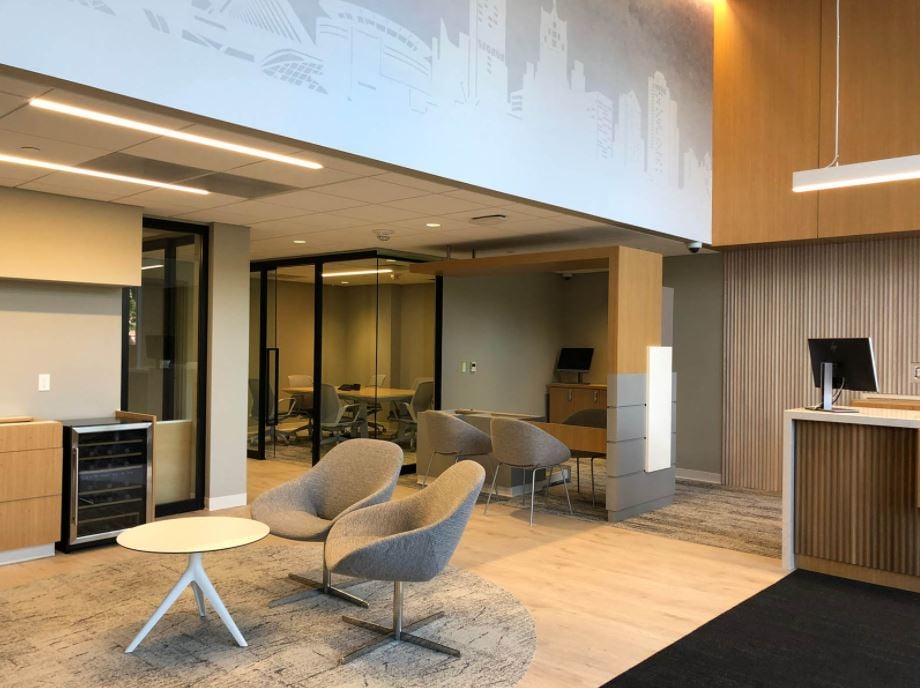 "It's a little bit more modern; it's a little bit more what the future of banking looks like and probably what office space looks like."
"Somebody asked me the other day whether the pandemic and COVID had really kind of caused us to do this. We had all this on paper, we had it all drawn up before that. But I would tell you it kind of validated it.
"Because as we walk through and we see how the world's changed, this is kind of what it feels like. It feels a little bit more like self-service. You see a lot of old bank branches, you've got seven tellers and they all kind of stand there and wait for the nine customers to come in in a day and flip a coin to see who serves them."
Popp said the small branch will be full service.
"We'll have universal bankers that can do a lot of different things for you instead of just being a teller in a bank," he said.
The interior has a big screen display and is decorated with a Milwaukee skyline mural that Popp said is a reminder of Johnson Financial Group's tenure in the city.
"We've been in Racine for 50 years," he said, "and we've been in Milwaukee for a long time. This, for us, is a little bit of a statement that we want to make sure that we have really good roots in Milwaukee and that's why we did that."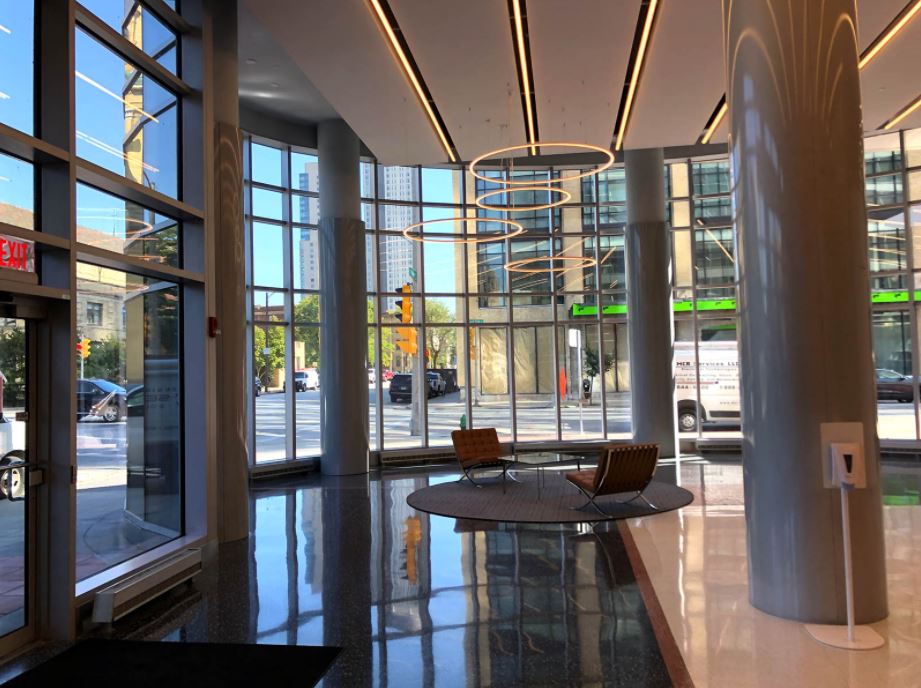 Upstairs, the offices on the 18th and 19th floor will house about 100 employees who will be consolidated from the 333 E. Wisconsin Ave. building – which has been sold, though Popp declined to name the buyer – as well as offices at 100 E. Wisconsin Ave. and a few sites in Waukesha and Brookfield.
Those folks – who Popp said will likely work three days a week in the office and two remotely – will be treated to ultra-modern offices with collaborative spaces in a variety of sizes and footprints, 360-degree views of Lake Michigan, Downtown and beyond, and a long, narrow outdoor deck that offers an incredible panorama.
There is also a catering kitchen and other amenities.
A number of departments, including insurance and financial services will be housed here.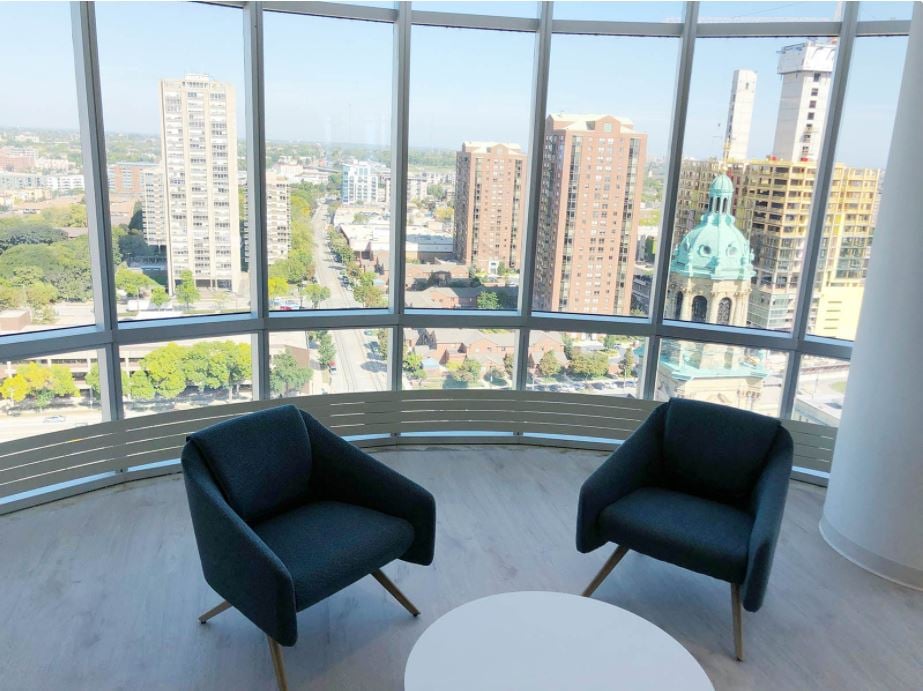 The private offices, with glass front walls, are lined along the interior of the space with open work areas closer to the windows, which Popp said seems more fair.
"We flip-flopped it and have the offices with glass windows, so everybody gets the value of the view," he said. "Everybody gets the value of the open space and the feeling of having it be more open and airy and light."
Amazingly, the southeast corner of the 19th floor previously had no windows and was used for storage, but Johnson Financial Group opened up the area and added windows that offer the best views in the entire space.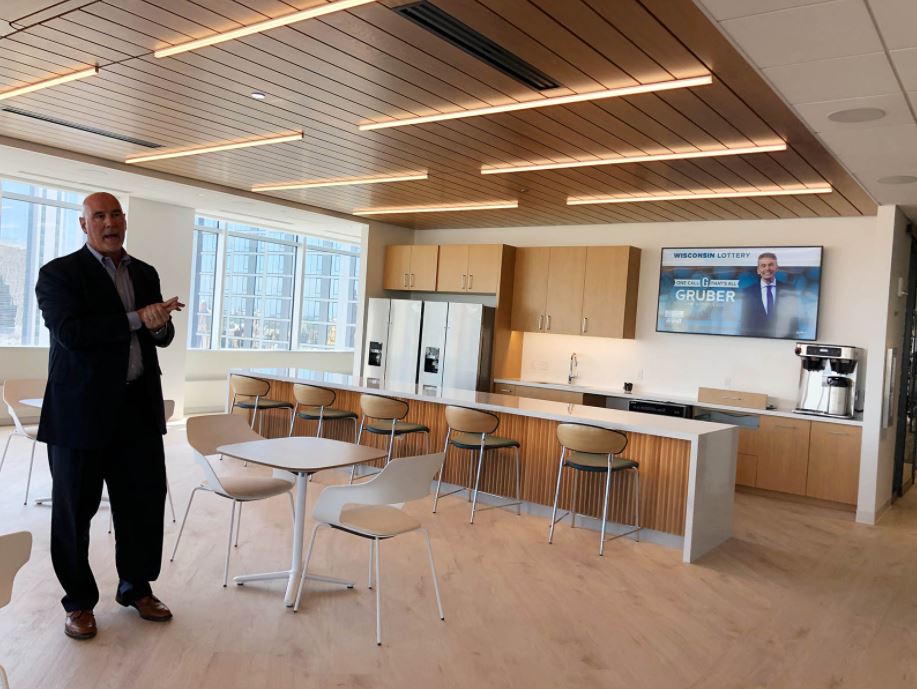 The interior – previously home to Husch Blackwell, which moved into the new Huron Building when it was completed last autumn – was designed by RINKA architects.
It is being built by The Redmond Company. Duet Resource Group supplied the furnishings.
"You know how they say ripped it down to the studs," Popp asks? "Well, we took the studs down, too. We took everything out. We took it down to the support stuff."
Here are more photos from the 18th and 19th floor offices: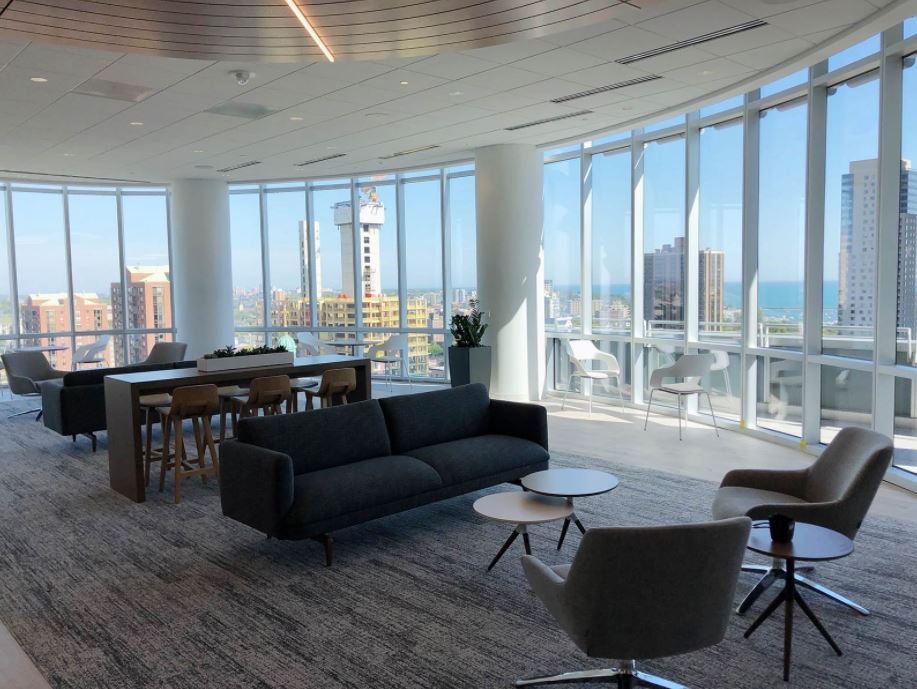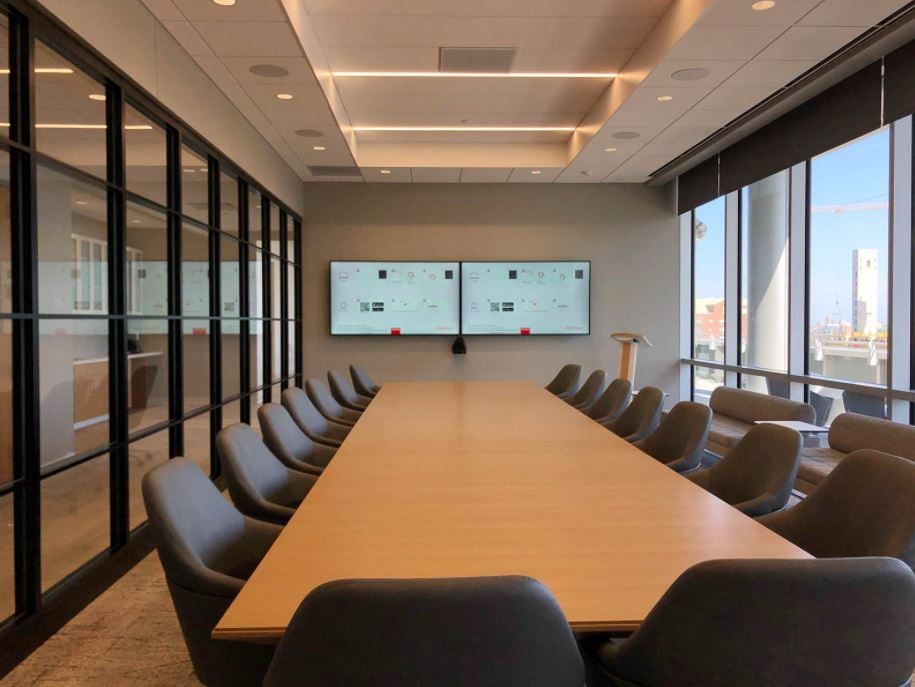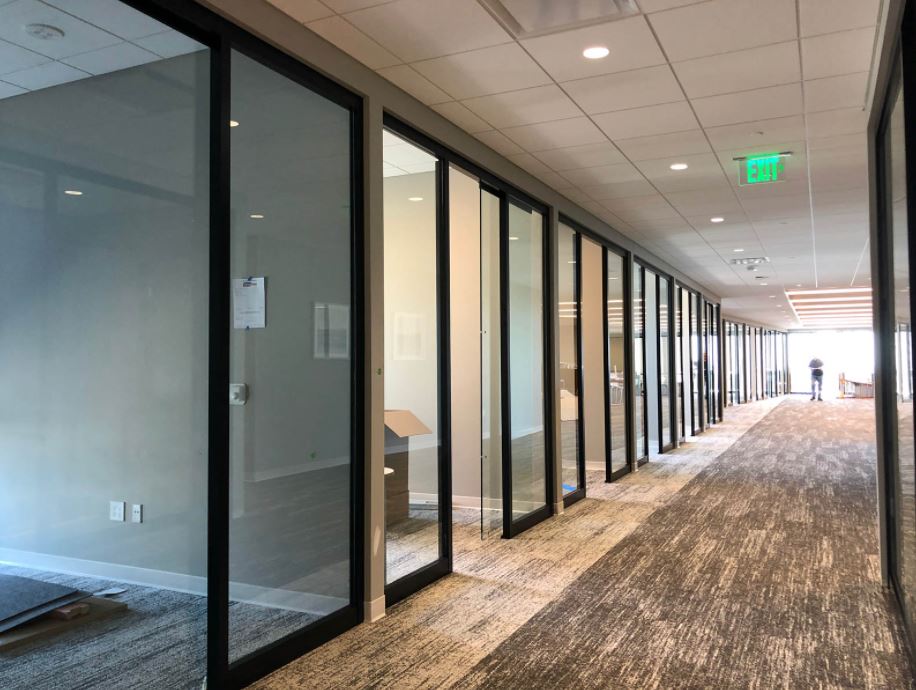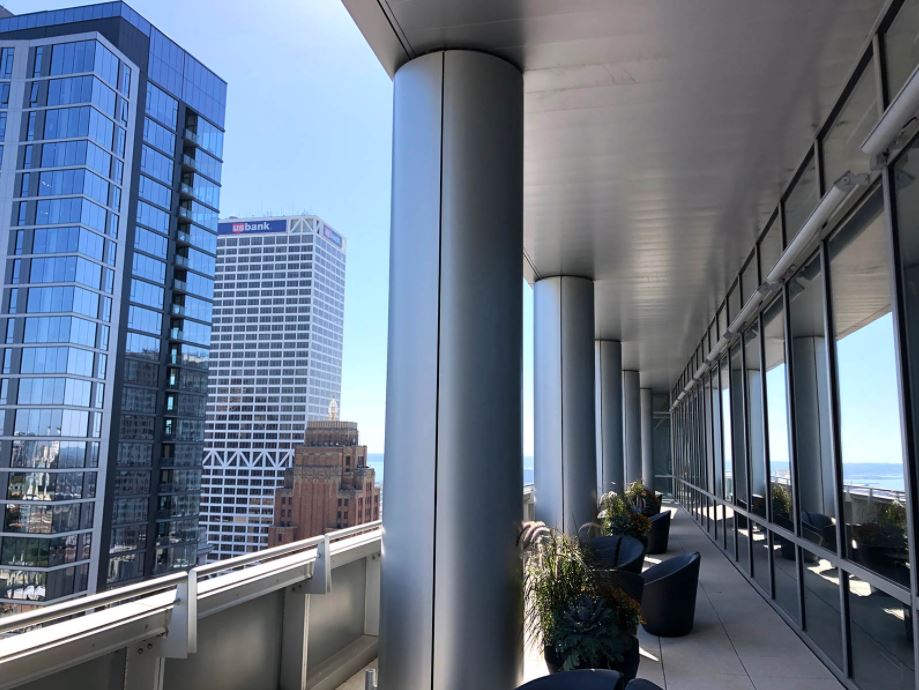 Additional Resources
View additional photos in the Milwaukee Business Journal.