Dow Surges to Highest Level Since February on Vaccine Results, Biden Win
Treasury yields jump and crude prices soar
U.S. stocks jumped to fresh records Monday after progress on a Covid-19 vaccine and Democrat Joe Biden's electoral victory ushered in a sea change in financial markets, reordering winners and losers.
The Dow Jones Industrial Average climbed almost 1300 points, or 4.4%, in afternoon trading. The blue-chip index set its first intraday record since February and came within about 70 points of the 30000 mark before paring some gains. The S&P 500 surged 2.7%, also putting it in record territory.
Markets rallied after a vaccine developed by Pfizer and partner BioNTech proved better than expected at protecting people from Covid-19 in a pivotal study, a milestone in the hunt for shots that can stop the global pandemic.
The vaccine jolted markets, at least temporarily, reviving the fortunes of the pandemic losers, such as travel companies, retailers and banks, whose stocks rise and fall with the outlook for the economy.
Shares of Carnival surged 34%, American Airlines Group gained 17%, Kohl's KSS 19.96% ▲ rose 19% and Bank of America BAC 16.21% ▲ climbed 15%.
Meanwhile, the pandemic's winning stocks, such as big tech companies, lagged behind the rest of the market, a reversal of fortunes that some investors said was among the most stark they had seen.
The tech-heavy Nasdaq Composite, which climbed 33% this year through Friday, was roughly flat on Monday. Netflix NFLX -7.14% slumped 6.7% and Clorox CLX -9.09% declined 9.3%. Zoom Video Communications ZM -15.61% 15% and Peloton Interactive PTON -17.50% fell 17%.
The positive, though incomplete, results bring the vaccine a big step closer to being cleared for widespread use. Pfizer said it is on track to ask health regulators for permission to sell the shot before the end of this month, if pending data indicate the vaccine is safe. Pfizer shares jumped 9.1%.
The news rippled through other markets as well. The yield on the 10-year Treasury note jumped to 0.944%, from 0.821% Friday. U.S. crude oil for December delivery jumped 8.5% to $40.29 a barrel.
Investors also backed away from safety trades. The Japanese yen slid 2% against the U.S. dollar to 105.41. Gold fell 5%, or $97.10, to $1,853.20 a troy ounce, its biggest one day percentage fall in seven years. The yield on the 10-year German bund rose the most since March, advancing to minus 0.51%.
The small-cap Russell 2000 index jumped 5.4%. Earlier, futures tied to the index rose 7%, hitting CME Group's limit up, which prevents them from rising further.
The moves suggested individuals, hedge funds and other investors were rapidly recalibrating their forecasts for faster economic growth and higher inflation based on the vaccine news, as a successful vaccine has the potential to restart swaths of the economy hobbled by the pandemic.
"There are a lot of things that are benefiting from people willing to take risk and rotate into the unloved, so to speak," said Brian Andrew, chief investment officer at Johnson Financial Group. He said his firm has increased clients' exposure to stocks in recent weeks, particularly strategies that invest in cyclical companies like financials.
The rally also showed how investors are overlooking the current period, in which the U.S. continues to report more than 100,000 new Covid-19 cases a day and millions of Americans remain out of work and unable to pay their bills. Many are instead looking toward the economy more fully opening back up.
A reopening could weaken the advantage that tech companies, which thrive on virtual work, learning and entertainment, have enjoyed during the pandemic. Still, some aren't so quick to count them out.
"Do I think that people are going to en masse go back to gyms and not buy Pelotons anymore? I don't," said Nancy Tengler, chief investment officer of Laffer Tengler Investments. "I just don't think we are going to see huge changes in behavior back to the norm."
The new leg of the rally in stocks also reflects the reduced uncertainty surrounding the U.S. elections, combined with expectations that a Democrat- controlled White House and divided Congress could result in moderate policy measures on taxes and spending.
"The market-friendly bits of Biden will be in place: the lack of volatility, more clear foreign policy," said Altaf Kassam, head of investment strategy for State Street Global Advisors in Europe. "But at the same time, the bits that the market was worried about—higher taxes and more regulation—will not happen. That's what's been driving the market higher."
Yield on the 10-year Treasury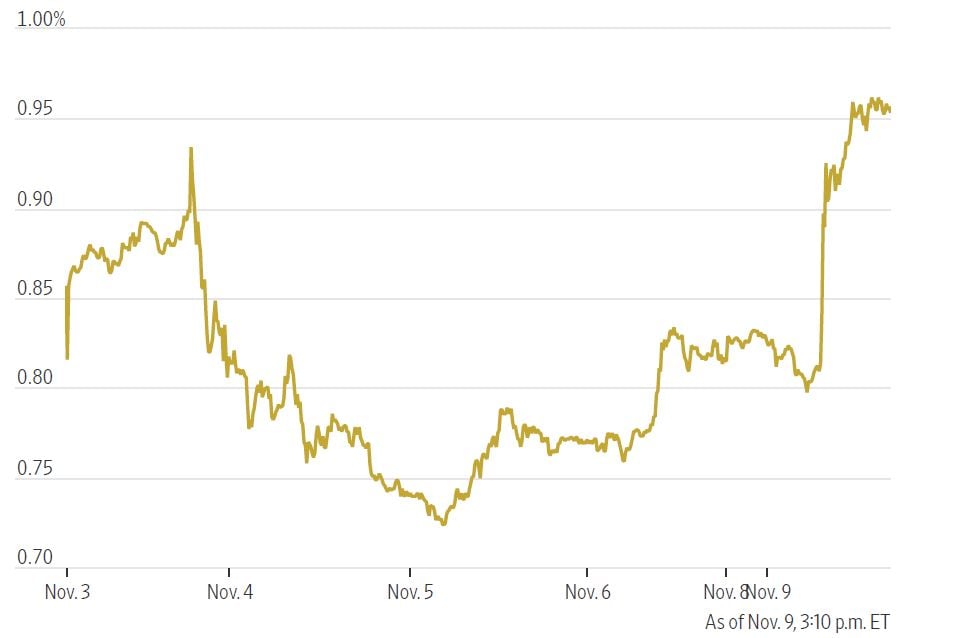 Source: Tullett Prebon
The pan-continental Stoxx Europe 600 jumped 4%. Overseas investors expect that an administration led by President-elect Biden will engage in more predictable foreign policy and may be less inclined to levy tariffs or unexpectedly escalate tensions with China, said James McCormick, a strategist at NatWest Markets. "Equities outside of the U.S. get a nice lift from this," he said.
Asia is likely to benefit as higher trade tariffs become less likely, according to Tai Hui, chief market strategist for the region at J.P. Morgan Asset Management. "A lot of the shocks we've experienced in the past three years will be less of a concern. And investors will welcome that," he said.
China's Shanghai Composite Index closed 1.9% higher, and Hong Kong's Hang Seng Index rose 1.2%. Japan's Nikkei 225 gained 2.1% to close at a fresh 29-year high.
How many Chinese yuan $1 buys, offshore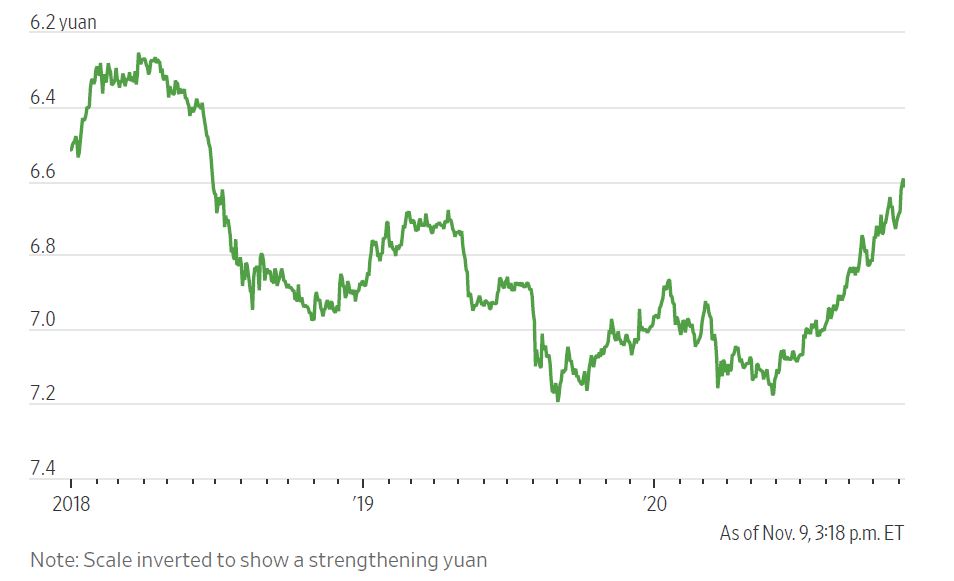 Source: Tullett Prebon
"Globally, investors are just happy to turn the page on the U.S. elections," said Eli Lee, head of investment strategy at Bank of Singapore. Mr. Lee said the feared scenario of a drawn-out contested election had diminished, reducing uncertainty for markets and for policy makers such as the Federal Reserve.
"The Fed has been on the back foot for the past couple of months as it wants clarity on what policies would be on the fiscal front to craft monetary policies to support the economic recovery," he said.