Amber Krogman: 40 Under 40
As millions of workers nationwide question their passions, what they want to do, and where they want to live, these young professionals are laying down roots and making waves right here in Greater Madison, and we'll all be better for it.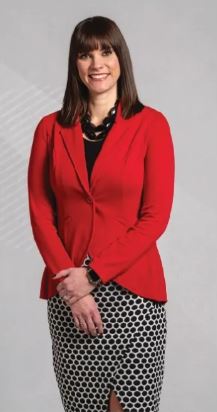 Employed with Johnson Financial Group since 2014, Amber Krogman has been helping commercial clients throughout the pandemic, but she's also established a reputation as a connector, referring prospects to other partners within the organization. She's been recognized as a top producer amongst her peers for the past three years, meeting sales goals and sustaining a client retention of 98%.
The pandemic changed Krogman, forcing her out of her shell as shelter-in-place orders took hold. With in-person meetings off the table, she communicated with clients and prospects through personal videos and collaborated with outside organizations to create webinars, often taking center stage as a speaker herself.
A dedicated supporter of Gilda's Club, Krogman is an active member of its Club Red Young Professionals Board and helps the organization whenever she can. She's also served on the board of The Business Forum.
Her proudest achievement is being the first in her family to earn a bachelor's degree.
Amber Krogman
Assistant Vice President/Commercial Insurance Executive
Johnson Financial Group
Age: 36